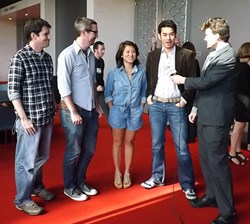 Burbank, California (PRWEB) August 16, 2013
Createasphere, the leading community builder uniting business leaders, content creators, emerging technology providers and thought leaders working in entertainment and media, wrapped a successful TransVergence Summit last Thursday, August 8 at the W Hotel in Hollywood.
The TransVergence Summit is the first conference of its kind to bring together the talent, tools and technologies needed to create transmedia, over the top television and cross platform content that immerses audiences and engages fans. Attendees saw the latest strategies and met with noted experts who work in transmedia and cross platform communication. They enjoyed two days of high-level seminars, case studies and panel discussions on such topics as the future of content, branded content, gamification, emerging platforms and the creation of storyworlds.
Keynote speakers Will Wright (Syntertainment), Juan Pablo Gnecco (Samsung) and Adam Besserman (Yahoo!) provided their perspectives on the evolution of entertainment and content distribution and how multiple platforms and channels are affecting the ways audiences engage with and consume content.
Co-located at the Summit was the very first West Coast Story Hackathon, co-produced by Createasphere and Storycode, which challenged five teams of four hackers, selected from hundreds of online submissions, to design a cohesive narrative spanning three or more technological platforms and presenting one of them to attendees for judging. The winners, Team Marching Penguin, tackled the topic of dating insurance with "Heartbreak Dating Insurance," incorporating video, a live presentation and social media. Team members included Jordi Matsumoto, Cassandra Nguyen, Andrew Promey and Stan Dyro.
Mike Knowlton, CTO of Storycode and onsite producer of the Hackathon, said, "The L.A. Story Hackathon far exceeded my hopes and expectations. The interest level for both participants and conference attendees was off the charts, and the level of quality of the hacks themselves was inspiring."
Kate McCallum, Producer and Conference Chair of the TransVergence Summit, said, "The summit participants and speakers provided insights on some of the most exciting and cutting edge innovations in the industry, and it was so rewarding to have such an enthusiastic reception from not only the attendees but the panelists and speakers who participated in helping make the summit so fantastic!"
Dates and locations for the 2014 TransVergence Summits will be announced soon. Createasphere's next event, the Digital Asset Management Conference, takes place October 7-8, 2013 at the Westin New York Grand Central.
About Createasphere
Createasphere is the premier business development partner for technology enabled entertainment, marketing, and communications organizations. We advance careers and technologies by connecting world-class professionals globally online and in person.
Createasphere was founded in 2001, and over the past decade has grown into a global company that in 2011 produced seventeen events over three continents as well as five websites. Createasphere became part of Diversified Business Communications in 2008, and now drives its entertainment, media, technology strategies and properties division. Currently, Createasphere produces the Entertainment Technology Expos in Los Angeles; the Digital Asset Management Conference in New York and Los Angeles; The DAMMY Awards in New York; the Post Production Master Classes in New York and Los Angeles, the Digital Process Workflow Lab; The TransVergence Summit and the online news and content portals ProVideoCoalition.com, DamCoalition.com, TransmediaCoalition.com and ProPhotoCoalition.com.
Connect with Createasphere on:
Facebook (http://www.facebook.com/pages/createasphere/120410987973181)
Twitter (https://twitter.com/createasphere)
LinkedIn (http://www.linkedin.com/company/createasphere)
Vimeo (http://vimeo.com/createasphere)
Flickr (http://www.flickr.com/search/?q=createasphere&f=hp)