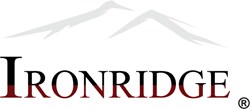 Ironridge Global successfully concludes financings of ULURU
San Francisco (PRWEB) August 15, 2013
Ironridge Global Partners, LLC, an institutional investor making direct equity investments in micro-cap public companies, and its affiliates successfully completed financing transactions with specialty pharmaceutical company ULURU Inc., that were entered into on September 15, 2011, under which Ironridge Global agreed to purchase common and preferred stock. At the election of the company, all outstanding preferred stock was redeemed and all outstanding notes were satisfied in full. Ironridge Global continues to be a common stockholder of the company. ULURU stock closed up today at $0.52 per share.
About ULURU Inc.:
ULURU Inc. is a specialty pharmaceutical company focused on the development of a portfolio of wound management and oral care products to provide patients and consumers improved clinical outcomes through controlled delivery utilizing its innovative Nanoflex® Aggregate technology and OraDisc™ transmucosal delivery system. For further information about ULURU Inc., please visit its website at http://www.uluruinc.com.
About Ironridge Global Partners®
Ironridge Global Partners, LLC is an institutional investor, making direct equity investments in micro-cap public companies. Its Liability for Equity (LIFE™) program allows public companies to satisfy trade payables, debts and other liabilities in exchange for unregistered common stock utilizing a Section 3(a)(10) fairness hearing. Ironridge Global is the industry leader in this innovative financing structure, which substantially reduces the transactional costs and time necessary to complete a deal. The fund has entered into more than 50 equity financing transactions since 2011, ranging from under a quarter million to over $15 million each. Ironridge Global seeks to be a long-term financial partner, assisting public companies in financing growth and expansion by supplying innovative funding solutions and flexible capital. For more information on Ironridge Global Partners, please visit http://www.IronridgeGlobal.com.
Contact:
Keith Coulston
Ironridge Global Partners, LLC
415-658-9551