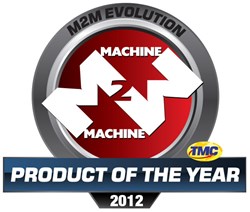 [CradlePoint's] innovative work is providing superior contributions to the rapidly evolving M2M industry. -Rich Tehnrani, CEO at TMC
Boise, ID (PRWEB) August 20, 2013
CradlePoint, the global leader in 3G/4G wireless networking solutions for the distributed enterprise, announced today that the CradlePoint COR IBR600 Integrated Broadband Router has received a 2012 M2M Evolution Product of the Year Award from M2M Evolution Magazine, the leading publication covering the machine-to-machine industry. The winners represent the best innovation in the M2M technology space over the past 12 months.
"CradlePoint COR was designed to meet the connectivity challenges of the M2M market and the demands of distributed enterprises in verticals ranging from retail to financial services to transportation," said George Mulhern, CEO and Chairman of the Board of CradlePoint. "We are honored that M2M Evolution Magazine has chosen to recognize the work our product teams have done with customers and partners to deliver true innovation in M2M networking.
The CradlePoint COR IBR600 is an affordable, feature rich compact router designed for critical business and enterprise applications that require 24/7 connectivity. With fully integrated 4G LTE, a sleek metal case, built in mounting bracket, and external mobile broadband and WiFi antennas, COR is ideal for use in high-availability applications like digital signage, kiosks, surveillance, and vehicles. It also supports traditional wired data networks like DSL or Cable, maximizing network flexibility.
"The solutions selected for the M2M Evolution Product of the Year Awards reflect the diverse range of innovation driving the machine to machine market today," said Rich Tehnrani, CEO at TMC. "It is my pleasure to recognize the CradlePoint COR IBR600 as an innovative solution that earned CradlePoint much deserved recognition. Their innovative work is providing superior contributions to the rapidly evolving M2M industry."
The winners of the 2012 M2M Evolution Product of the Year Award were published in M2M Evolution Magazine and via press release.
For more information, please visit http://www.tmcnet.com.
About CradlePoint
CradlePoint is the global leader in cloud-managed 3G/4G networking solutions, providing business-grade, secure connectivity to distributed enterprise, small businesses, and mobile customers. Specializing in failover, machine-to-machine (M2M), and primary connections, CradlePoint's solutions are purpose built for PCI-compliant networks. CradlePoint is the first to pioneer and fully enable high-speed LTE in its solutions to maximize the potential of the cloud for businesses worldwide. CradlePoint is a privately held company in Boise, Idaho. Learn more at CradlePoint.com or follow on Twitter @CradlePoint.
About TMC
TMC is a global, integrated media company that supports clients' goals by building communities in print, in person and online. TMC publishes multiple magazines including Cloud Computing, M2M Evolution, Customer, and Internet Telephony. TMCnet is the leading source of news and articles for the communications and technology industries, and is read by as many as 1.5 million unique visitors monthly. TMC produces a variety of trade events, including ITEXPO, the world's leading B2B communications event, as well as industry events: 3D Printing Conference & Expo, Asterisk World, AstriCon, CVx ChannelVision Expo, Cloud4SMB Expo, DevCon5 - HTML5 & Mobile App Developers Conference, M2M Evolution Conference & Expo; Mobile Commerce Zone Conference & Expo; SecureIT; StartupCamp, Super Wi-Fi Summit, SIP Trunking-Unified Communications Seminars, Wearable Tech Conference & Expo, WebRTC Conference & Expo, and more. Visit TMC Events for additional information.
Media Contact
Michael Rotchford, CradlePoint
208.639.4276
mrotchford(at)cradlepoint(dot)com