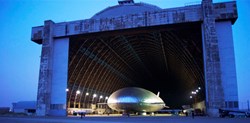 "Aeros will be forever grateful to the DOD, DARPA and NASA for their support and vision during the Aeroscraft's development, and I would also like to thank all the members of the Government-Aeros team for their professionalism and insights throughout.
Los Angeles, CA (PRWEB) August 21, 2013
Aeroscraft ML866 and ML868 fleet manufacturer and operator Aeros today announced that Government high fidelity testing and demonstrations have been completed successfully within budget and one month ahead of schedule.
The additional testing has been taking place throughout the summer, including taxi tests of the vehicle's unique air bearing landing system (ABLS) and revolutionary internal ballasting system - Control-Of-Static-Heaviness (COSH) , as well as testing of the vehicle's low speed control (LSC) system. While conducting these tests, Aeros team members have also been finalizing pilot ergonomic optimization alongside flight crew training.
"These additional high fidelity tests and demonstrations were requested by the United States government under the Pentagon's 'Project Pelican' Program, which demonstrated the readiness of the Aeroscraft, a variable buoyancy air vehicle, to transition forward into initial serial production," explains Aeros' CEO Igor Pasternak, who continues, "Project Pelican was designed to address some of the most significant challenges facing U.S. global reach capabilities, which the Pentagon confirmed was successful in achieving its objectives earlier this year."
Additional out-of-hangar flight demonstration is now expected to be completed on the scaled-down Aeroscraft "Dragon Dream" engineering vehicle later this year, which will be conducted to further test sub-system integration and performance, and ultimately accelerate fleet development. Aeros recently announced initial fleet development plans for 22 full-sized, globally-deployable Aeroscrafts in two cargo weight bearing configurations, capable of airlifting 66-tons and 250-tons respectively.
"Aeros will be forever grateful to the DOD, DARPA and NASA for their support and vision during the Aeroscraft's development, and I would also like to thank all the members of the Government-Aeros team for their professionalism and insights throughout the Pelican program," reveals Pasternak, adding, "The successful demonstration of the Aeroscraft 'Dragon Dream' vehicle was only possible because of tremendous cooperation, vision and passion shared with these great partners."
The Aeroscraft is an innovative air vehicle developed to provide new ways of moving heavy and oversized cargo from point-of-origin to point-of-need, even to areas with damaged infrastructure or those lacking it altogether, or to move sea containers by air. It is a disruptive innovation to the current global transport logistics industry that will help balance economic development and environmental conservation. The Aeroscraft is revolutionary because of its ability to take off and land vertically like a helicopter, hover, and reach locations that have no roads or places to land.
The Aeroscraft is similar to a giant 'flying submarine' because of a proprietary internal buoyancy management system that compresses inert helium within to overcome traditional requirements for external ballast exchange when unloading cargo from LTA vehicles at destination. This eliminates the need for ground personnel and infrastructure and enables true VTOL flight at maximum payload, as well as new opportunities for commercial industries around the world in solving intermodal logistics and infrastructure development difficulties.
The rigid variable buoyancy air vehicle will soon transport large and oversized cargo to remote and ecologically sensitive areas directly, with minimal footprint, enabling solutions for the military, humanity and major industries around the world including energy production, energy exploration, mining, wind turbine construction, perishable produce, disaster relief, and high value goods, among many others.
The team at Aeros has been proudly working with government partners to develop this vehicle to bolster military mobility and disaster relief response capability. The Aeroscraft is an attractive solution for expanding multimodal operations, aiding humanitarian crisis response, and doing so with fiscal acuity and energy consciousness.
Learn more about the most effective vertical-takeoff-and-landing (VTOL) cargo transport aircraft in the world at http://www.aeroscraft.com. Media interested in interviews should contact media@aeroscraft.com, or contacts below.
About the Aeroscraft: An Aeroscraft is a new type of rigid variable buoyancy air vehicle, designed to control lift in all stages of air or ground operations, including the ability to off-load heavy payloads without the need to re-ballast. For the first time in history, an aircraft has been designed to control and adjust buoyant and dynamic lift, creating a new paradigm for air transportation and logistics. Poised to enhance the air transportation industry, the Aeroscraft will deliver opportunities for business and consumers globally through access to remote locations and by new cargo delivery capabilities. The key features of the Aeroscraft include a rigid structure, vertical takeoff and landing, and operational abilities at low speed, in hover, and from unprepared surfaces.
About Aeros: Aeros was founded in 1987, and the company advanced from a small advertising aerostat production manufacturer in the Ukraine to a premier airship producer and R&D firm for the aerospace industry based in the United States. Today Aeros is the most innovative FAA certified LTA manufacturer completing exciting work on a new type of air vehicle called an Aeroscraft that combines many of the attributes and benefits of fixed-wing (airplanes), rotary (helicopter) and traditional lighter-than-air (LTA) aircraft. Through their exceptional manufacturing quality, Aeros has achieved multiple FAA airship type certificates and operates with an FAA Production Certificate. Aeros currently boasts an extraordinary product line that includes the most advanced airships and tethered aerostats utilized in commercial and government applications throughout the world. For the past quarter century, Aeros has pioneered new product advancements in the aerospace defense technology sector, which has been a strong contributing factor in maintaining continuous corporate growth. The entire Aeros organization and the advisory board, comprised of military and commercial leaders, are dedicated to one goal of harnessing the exciting future and opportunities ahead.
# # #