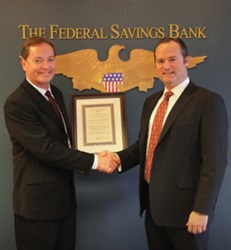 While this process can help identify potential problems, it is recommended homebuyers still have the home officially inspected.
Chicago, IL (PRWEB) August 15, 2013
The Federal Savings Bank, an institution specialized in VA home loans, has been informing its eligible veteran applicants, that aside from benefiting from the VA loan guaranty, they may also stand to benefit from the appraisal process and easy refinancing.
As outlined by Mortgage Reports, since its inception in 1944, the VA home loan system has guaranteed more than 20 million loans as a means to make housing affordable for service persons. Eligible military borrowers are not required to make a down payment or procure mortgage insurance. The program also has less strict qualification standards, making a mortgage approval easier than conventional mortgage products.
VA appraisals
To ensure quality and fairness, a VA appraisal is assigned through the VA central appraisal system that randomly selects an appraiser. Despite the lender commissioning the appraisal through the VA, the randomized process puts distance between the lender and the appraiser, giving each appraisal a greater degree of independence and autonomy. Appraisers who are swamped with a high number of clients are less likely to be assigned. While this may not seem like much, it means a homebuyer will get an appraisal more quickly. The earlier the appraisal is completed, the faster a homebuyer can close on their home.
Not only will a homeowner get access to a network of VA approved appraisers, but the work VA appraisers conduct is more comprehensive than traditional appraisers. For instance, VA appraisers are required to inspect a home's safety status and ranking, as well as assess the safety of its working parts. This includes a detailed integrity analysis of a home's plumbing, foundation, gutters and downspouts as well as any other mechanical systems.
While this process can help identify potential problems, it is recommended homebuyers still have the home officially inspected. The VA appraisal process is not designed to replace the inspection, rather just a more comprehensive appraisal. The fee for this process must be paid by the homebuyer, however, in the event of a VA loan refinance, an appraisal is not needed.
VA home loan refinance
Once you have been approved for a VA home loan (requiring a Certificate of Eligibility, credit check, appraisal, etc.), you do not need another COE, appraisal or credit check. In fact, it's incredibly easy and with no out-of-pocket expenses to the homeowner (with the costs rolled into the refinance loan amount).
The Interest Rate Reduction Loan, otherwise known as the VA Streamline Refinance loan, allows homeowners to lower their interest rates so long as they are current on their mortgage with just one 30-day late payment within the past year. In addition to being current, your new payment must be lower than your existing one, you must occupy the property, and the property in question must be purchased originally with a VA home loan. A homeowner cannot receive any cash from an IRRRL. However, if a cash-out refinance is what is desired, consider the VA Cash-Out refinance loans.
Contact The Federal Savings Bank, a veteran owned bank, to discuss your eligibility for a VA home loan and any refinance options.