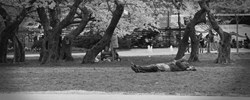 "Journalism is printing what someone else does not want printed: everything else is public relations." -- George Orwell
Silver Spring, MD (PRWEB) August 17, 2013
Through a project on Kickstarter.com and an overwhelming level of encouragement from friends and family, a local Marine Corps Veteran and photographer tells his story of passion and drive to make a difference in the level of homelessness in the veteran population.
As a Marine combat Veteran of the Iraqi Freedom War, helping veterans has become a huge part of his passion. Thano Genos, a native of Fort Wayne, Indiana, is beginning a journey he has long desired to start but hasn't found the outlet to do it until now. Not only is he a combat Veteran, he was a photojournalist in the Marine Corps during the War. He has felt and seen the effects of what war can do to people. He has looked PTSD in the face and was beaten down hard initially. Thano was knocked down and at a few points wasn't going to get back up. After a year of battling doubts, he committed to finishing his Master's Degree and making a life of his own free from the doubts of old. Photography has always been his passion and he wants to combine it with a passion of working with Veterans. He is going to use photography to get this information out to people who aren't necessarily ready to see it. The journalistic and artistic world at times have controversial muses and homeless Vets may just be one right now. George Orwell said it best when he said:
"Journalism is printing what someone else does not want printed: everything else is public relations."
The effects of War have put some of the nation's men and women who gave up everything to serve their country on the streets, and now it's time to create awareness and show the world the citizens need to help these men and women. There is an image in the video of the project from a fellow Marine he was serving with who carried his cross with him but on his rifle. He took this picture before they went out on a mission in Iraq and it was one of the photos that has stuck with him and spoke to him over the years.
Being in the DC area, he has seen quite a few homeless people, Veterans are a high percentage of them. He took an entire day a few years back and spent it with a homeless man in DC. Thano had no phone, no money, just his ID in case anything were to happen. It was then he began to see how tough it was living on the streets (and he only did it for one day). While he has been to war and faced the enemy head on, after spending a day on the streets "homeless," he stated firmly, "I think I might want to go back to war before I go back to living on the streets." Many will remember 9/11 and the images that will be ingrained in their minds from that horrific day. These images bring out the best and worst in people. People have continually found compassion for those families who have lost and also found anger in those who did this to the country. Many emotions are found at the stem of these acts. This is what Thano wants to capture in the homeless Vets. While it may not be to the level of what happened on 9/11, how many Vets who are homeless are dying each year? What can be done to educate people about this situation in America.
The plan at hand is to provide each homeless veteran he photographs with an item of clothing or pair of shoes. He will also be ensuring them, they know what organizations in the Washington D.C. area they can go to and receive help and direction on how to get back on their feet. He is currently meeting with local charities and organizations who are equipped to assist these veterans who are battling challenges in homelessness as well as other areas in life.
"Together we are many, we can make a difference. It has been said it only takes one person to make a difference in this world. Imagine if groups of those people worked together, how much change could truly be attained," he stated.
It was said best when Sir Winston Churchill stated, "We make a living by what we get, we make a life by what we give."
What are you willing to give is the question. Check out his project HERE.