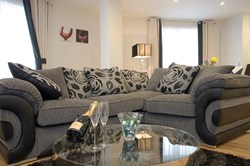 London, UK (PRWEB UK) 19 August 2013
A burst of fashion, style and design is injected into the month of September. It's all about the creativity and innovative art with The London Design Festival, 100% Design and London Fashion Week taking place in the city of London. Additionally this month also offers a chance to look inside some of the city's private buildings allowing you to explore and appreciate the architecture and interior bravura from different decades.
The months starts with a culmination of Designers in Residence exhibition at Designs Museum, which supports up and coming designers, following with London Design Festival at V&A museum. The London Design Festival is an ambitious project and is a true celebration of the capital's all-encompassing design industry, taking in sectors as diverse as fashion, architecture, retail, typography, photography, textiles, interior decoration and manufacturing. Events come in all shapes and sizes from product launches in tiny boutiques to massive trade shows including '100% Design' at Earls Court, the UK's largest contemporary design trade event with 400 exhibitions this year.
The fashion industry takes over from the middle of September with "London Fashion Week" featuring 200 of the industry's most creative designers and businesses, in the UK and internationally, with catwalk shows, exhibitions and award ceremonies; the whole capital will no doubt be bustling with fashion fever and the streets becoming a catwalk. Along with the main London Fashion Week event, an open to all London Fashion Weekend is returning this September. This fashion focused weekend is an opportunity for everyone to get access to the latest designer trends - even if they don't have a stylist's little black book. The frenzied London Fashion Week is all about work for models, buyers and fashion editors who run around at breakneck speed. This consumer show, which takes place the weekend after the main event, offers savvy shoppers the opportunity to check out the latest fashions at a far more leisurely pace. But it's not just about the latest clothes; you can also get makeovers and styling tips while sipping on a champagne cocktail - very stylish. At the same time up and coming designers will be showcasing their work to big industry players at Vauxhall Fashion Scout, which is just couple of minutes away from Chelsea Bridge Apartments.
On more colourful note, Colourscape Music Festival will take place in Clapham Common, which is also located very close to Chelsea Bridge Apartments and will be going on for a week starting September 14. 'Colourscape' is one of the UK's most unusual music festivals, combining colourful visual art with contemporary music, and the installation, a centrepiece of the festival, is described as "a labyrinth of intense colour that expands the appreciation of some of the finest performances of contemporary music and dance."
All of these events are internationally recognized and welcoming attendees from different parts of the world. This is an opportunity to express yourself in the fashion and design industry; therefore every stylish person traveling to London will be looking for a trendy and chic accommodation to please their arty nature.
There is no need to look further as Chelsea Bridge Apartments is the right place to stay at as these apartments will astonish everyone with its modern and fresh interior providing spacious and luxurious serviced apartments in addition to the high standards of a 5* hotel. Moreover, the location of Chelsea Bridge Apartments is perfect. The building is located only a few minutes away from fashionable Chelsea, where you can get lost in various designer boutiques as well as world famous Harrods store being just 10 minutes away. Nevertheless, the apartments are also within easy reach to other parts of Central London and everything else it has to offer.
The Chelsea Bridge Apartment guests don't have to worry about anything as CBA concierge team will always be there to help with any assistance required to make Chelsea Bridge Apartment guests stay enjoyable and memorable.