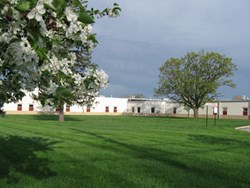 We aim to provide healing, give hope and promote resilience.
Columbus, Ohio (PRWEB) August 25, 2013
Pomegranate Health Systems Adolescent Psychiatry opened its doors in 2008 in Columbus, Ohio with 70 residential treatment beds for teens with mental and behavioral health disorders. Due to the increasing need for acute crisis care, Pomegranate chose to reduce the number of residential beds to 60 and open a 10-bed acute hospital for teens.
By 2012, Pomegranate Health Systems committed to the 20 bed expansion with agreement from the Board of Directors. "Along with the expansion was the additional requirement that Pomegranate Health Systems also now be certified to take Medicaid patients for its acute hospital - in addition to private insurance," said Dr. Sathappan, Medical Director and President. Teens are referred to Pomegranate by hospital ER departments throughout the state, pediatricians, and general practitioners, crisis treatment centers such as Netcare, psychologists, and therapists, school counselors, social service agencies, or children service caseworkers.
"The acute expansion includes new furniture, new wall color palette, new flooring, new artwork and more," said Angela Nickell, CEO. Nickell and Sathappan initially worked with Mosaic Design, healthcare specialists, for concept charettes - to put a preliminary plan in place. There were several revisions as different vendors and product lines were reviewed to find the most appropriate choices, along with installation and utility considerations for patient and facility needs. "Clearly, in a 24-7-365 days-a-year facility with active teen patients, there are also considerable 'wear and tear' concerns," added Nickell.
John Hedrick, Facilities Director, named a few more requirements needed to expand the acute unit: boiler enhancements, additional emergency water supply, additional egress area and lighting, upgrade to auxiliary electric power generator system, therapeutically designed color schemes, enhanced air handling and filtration and heat/smoke detection devices, new flooring throughout, new Amish-built activity and dining furniture, ergonomically designed community room furniture, new bedroom storage and study furniture, scenic art wall treatment in calming and quiet rooms, game and activities room accessories, expanded family therapy and visitation areas, and improved audio visual viewing equipment.
Physical concerns include designing for life safety. "Ohio Department of Mental Health and Addiction Services (MHAS) also has very specific requirements for individual room design of mental health facilities for acute patients to prevent self-harm. The top of bathroom doors are angled to promote safety; there are motion sensors in each bedroom, security cameras, and staff completes 15 minute bed checks 24 hours a day with nursing care 24/7. During the day there is individual therapy, group therapy, and art therapy. It is a level of therapeutic care and crisis stabilization that a patient determined to harm themselves or others would not receive in a home or less intensive care environment. Staff orientation and more extensive training is also involved," explained Nickell.
Pomegranate employs between 130 and 150 employees; a high percentage are direct care staff, nursing and therapy team members. Final details of the acute expansion will complete in Fall of 2013, with ongoing facility-wide renovation continuing on a graduated phased-in basis over a longer term. Both its residential treatment facility and acute hospital are accredited by The Joint Commission (TJC), licensed and certified by the Ohio Department of Mental Health and Addiction Services (Ohio Department MHAS). Pomegranate is a member of the Ohio Hospital Association (OHA), National Alliance on Mental Illness (NAMI-Franklin County), and Mental Health America (MHA-Franklin County).
"Pomegranate's mission is to help adolescents and their families recover from mental illness, learn to care for themselves and each other, and achieve the highest possible quality of life in their homes and communities," said Nickell. She added that several new initiatives would be forthcoming as Pomegranate continues to provide healing, give hope and promote resilience for teens in crisis.