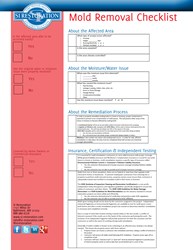 (Mold Remediation) experts are insisting that this outbreak will spread if proper precautions are not exercised to keep fungal growth from spreading in homes and businesses.
Mount Laurel, New Jersey (PRWEB) August 21, 2013
According to weather.com's Pollen Almanac for August 16, 2013, mold levels have been listed as "high" in the State of New Jersey every day consecutively since July 30, 2013. Before mold spores began their oppressive reign amongst all other allergens in Garden State homes and businesses, moderate levels of grass and weed allergens allowed residents to enjoy their summer. Now with mold levels steadily on the rise, severe allergic reactions could cause very serious health issues for property dwellers.
New Jersey Mold Remediation experts SI Restoration are reporting that mold removal service in the Garden State has doubled since May of 2013 (according to their reports from July). As of mid-month, August's service calls are on pace to triple numbers calculated in the spring.
With no end in sight to the overbearing presence of toxic mold spores in the indoor and outdoor environments, New Jersey residents are being called on to take control of the mold situation before it gets worse. According to an August 16th Associated Press Report, Hurricane Sandy victims are still struggling with mold infestation despite televised political campaign ads which suggest otherwise. Homeowners are being forced to pay the balance on bank notes thanks to the severe drop in appraisal values caused by mold infestation. Residents who raised their families in houses now overcome by the toxic fungus have nowhere to turn.
Experts are insisting that this outbreak will spread if proper precautions are not exercised to keep fungal growth from spreading in homes and businesses.
SI Restoration has published a series of interactive guides designed to assist property owners with educating themselves on finding the best value for their restoration projects. Since state and federal laws do not govern mold remediation in New Jersey, residents are forced to place their trusting contractors and environmental hygienists. Because any contractor with a handsaw and a garbage pail can cut away mold growth and "remove" it from a property, home and business owners must be able to educate themselves on what separates safe and healthy mold removal in New Jersey from unhealthy removal tactics.
Property owners can now access these interactive visual guides via SI Restoration's official website. There, the mold remediation service provider goes in depth on topics like:

What causes mold growth?
Will property insurance cover mold remediation?
Tips on how to familiarize oneself with the area affected by mold
Mold Remediation Certification
Mold Remediation Guidelines
By taking action and learning about the value of safe mold remediation, home and business owners will protect their families, their colleagues, as well as their most valuable material asset: their property.