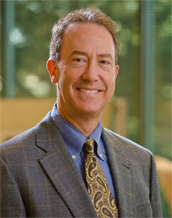 'I love working with kids in the SCL program,' said Hechler, 'It's rewarding to know that by fixing their teeth and their bite, we've had an impact on their lives!'
Overland Park, Kansas (PRWEB) August 20, 2013
Dr. Steven L. Hechler of Hechler Orthodontics was selected to be featured as the "Orthodontic Provider of the Week" by Smiles Change Lives (SCL), a national non-profit that provides access to life-changing orthodontic treatment to children from low-income families.
Dr. Hechler has been an SCL provider since May 1999. His contributions are especially noteworthy as the number of children awaiting treatment greatly exceeds the number of providers in the Kansas City area. So far this year, Dr Hechler has screened 40 children and has accepted 10 kids for treatment. In the four years that he has been a part of SCL, he has treated a total of 39 kids. It is this dedication that made him one of the first recipients of the Gini Award. Established in 2010, this award recognizes outstanding dedication to children's orthodontic health.
"I love working with kids in the SCL program; it's a great way for me to give back. The kids and their parents are so cooperative and appreciative," said Hechler, "It's rewarding to know that by fixing their teeth and their bite, we've had an impact on their lives."
Each week, Smiles Change Lives recognizes the work of one orthodontic provider, a team of providers or an orthodontic practice, that goes above and beyond the call of duty to support SCL's mission of bringing improved self esteem and healthy, happy smiles to the faces of children in need.
Dr Hechler will be recognized throughout the week of August 12-19, 2013 on the Smiles Change Lives website (http://www.smileschangelives.org/oow), and Facebook page (http://www.facebook.org/smileschangelives).
About Dr. Steven Hechler and Hechler Orthodontics:
Dr. Steven L. Hechler has specialized in the practice of orthodontics in Johnson County since 1987. He is a diplomate of the American Board of Orthodontics, a distinction fewer than 30 percent of orthodontists attain. He is a fellow of the American College of Dentists. He is an active member of the American Association of Orthodontists. His practice, Hechler Orthodontics is a patient-centered practice in Overland Park, Kansas, which specializes in orthodontic braces for children, teens and adults! For more information, visit http://www.hechler.com
About Smiles Change Lives:
Smiles Change Lives promotes and provides access to life-changing orthodontic treatment for children from low-income families. Headquartered in Kansas City, the program has treated more than 5,000 children since 1997. With its origin as the Virginia Brown Community Orthodontic Partnership, Smiles Change Lives has emerged as the nation's leader in providing access to orthodontic care for qualified and motivated youth. For more information, visit http://www.smileschangelives.org.