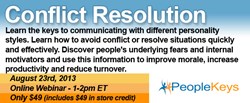 Boardman, Ohio (PRWEB) August 20, 2013
PeopleKeys, the industry leader in personality assessment and behavioral solutions, today announced that it will be hosting a live webinar that explores how DISC behavioral analysis can be used to avoid interpersonal conflicts and create healthy and productive professional relationships. The webinar, Conflict Resolution, will be held on Friday August 23 at 1 pm EST.
The goal of the Conflict Resolution webinar is to help participants better work around differences with colleagues, build harmonious and productive teams, and find ways to create a people-friendly work environment. All of this is accomplished through the lens of DISC, a behavioral analysis technique that has been successfully used in clinical settings for over 70 years.
In the hour-long webinar, participants will:

Find the keys to communicating with different personality styles
Learn how to avoid conflict before it begins
Determine how to resolve conflicts quickly and effectively
Uncover people's underlying fears and internal motivators
The Conflict Resolution webinar is part of PeopleKeys' popular DISC for the Real World series of live training events, led by PeopleKeys Director of Corporate Communications John Schindell. The webinar promises to provide an engaging and interactive environment to help individuals better understand how DISC can be used to solve a number of interpersonal problems including hostile work environments, unproductive teams, employee disengagement, and inefficiency that causes missed deadlines and costly delays. The presentation will be tailored to the dynamics of an office environment, but the content can apply to conflict resolution in any number of settings: interpersonal relationships, non-profit organizations, schools, ministry, the medical field, and more.
The proactive message behind the Conflict Resolution webinar is that individuals have the power to change the dynamics behind a conflicted relationship, and can turn unhealthy working relationships into healthy and productive partnerships. When individuals with different personality types work closely together, conflict is bound to arise. Fortunately, DISC theory can be used to foster an understanding and appreciation of the differences in the way that individuals with diverse personality types see the world. When people are able to recognize the triggers behind interpersonal conflict, they can modify their behavior to avoid serious problems.
As an added incentive, the Conflict Resolution webinar's $49 registration comes with complimentary access to an online PeopleKeys account loaded with two free DISC reports. The DISC reports, normally priced at $52, can be used to expand the applications of DISC beyond conflict resolution and into other avenues of self-improvement such as interpersonal communication, team building, career advancement, and stress management.
For more information about PeopleKeys, their DISC solutions, or to register for the August 23 Conflict Resolution webinar, visit peoplekeys.com.
About PeopleKeys
PeopleKeys has been providing tools to measure the connection between personality and human behavior for over 30 years. PeopleKeys believes that an understanding of human behavior can be used to improve relationships, streamline productivity, resolve conflict, and reduce stress. For more information about PeopleKeys and their DISC solutions, please contact Marketing Manager Kaitlyn Miller at 330-599-5580 x113.