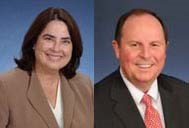 Los Angeles, CA (PRWEB) August 19, 2013
Jean M. Lawler and Dan L. Longo were admitted to membership in the Professional Liability Defense Federation, a not-for-profit organization designed to bring together attorneys, claims professionals and risk management specialists to share expertise and information helpful to the successful defense of professional liability claims.
As PLDF members, Ms. Lawler and Mr. Longo join a nationwide network of professional liability counsel and claims professionals who are focused on the defense of malpractice claims, board disciplinary proceedings and other E&O issues.
About Murchison & Cumming, LLP
With a firm history dating to 1930, Murchison & Cumming, LLP is a premier, AV-rated civil litigation firm with five offices in California and Las Vegas, whose attorneys specialize in the defense of domestic and international businesses, insurers and individuals, at trial and on appeal. The firm's attorneys also handle employment matters and business transactions. The firm is a member of the USLAW Network. For additional information, please visit our website at http://www.murchisonlaw.com.