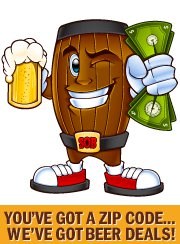 Houston, TX (PRWEB) August 23, 2013
The first step for SaveOnBrew.com was to create a reliable database of local beer prices for every zip code in America. Now they are looking to promote America's small craft brewers by publishing exclusive feature interviews in their Beer Blog, which is seen by hundreds of thousands of beer enthusiasts from coast-to-coast.
"Many beer blogs publish reviews, but we wanted to do something different," says founder Mark Davidson. "We feel that craft beer drinkers are not only interested in flavors, but they're more willing to support a brand that has the same values they do or brands that have interesting characters and stories behind them. Many of our readers are home brewers who may have ambitions of starting up a brewery or who could benefit from a behind-the-scenes look at how beer is brewed."
Each Tuesday, the blog highlights a new American craft brewer. Past interviews have been conducted with Fireman's Brew from California, New Jersey Beer Co from "the garden state," Dry Dock Brewing from Aurora CO, and Lost Tribes Brewing Company from New York City. In addition to speaking with brewers, SaveOnBrew also interviews beer cicerones, local bar owners, distributors, TV hosts, and inventors.
"We're grateful to have heard many excellent stories from behind-the-scenes of America's beer industry," Davidson says. "Lost Tribes told us about speaking with beer fans from Ethiopia, where the beer you drink is seen as a cultural status symbol. Dry Dock had a really funny story about brewing sushi beer. We loved hearing who New Jersey Beer Co's Paul Silverman would drink with, if given the chance. Fireman's Brew combined passion for beer with charitable work, which is really cool. Truly, every brewer has a fascinating story to tell."
Upcoming interviews planned in coming weeks include Clay Robinson from Sun King Brewing Company (of Indianapolis) and Matt Kyle, inventor of The Fusion Tower beer gadget. SaveOnBrew is currently accepting pitches from U.S. craft brewers who are interested in gaining exposure for their brands. Interested parties may contact Mark Davidson directly.
The exclusive beer industry interviews can be found at on the SaveOnBrew blog, or via their Facebook page.
# # #
About SaveOnBrew.Com: Founded in 2010 to help thirsty beer drinkers across the United States find the lowest advertised prices for one of the world's most popular beverages.