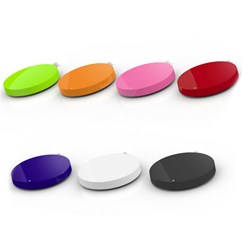 The Stylishest Wireless Charging Pad ELF
USA (PRWEB) August 22, 2013
The smallest Qi-enabled wireless charging pad is released by Esorun this week. Since the release of internal testing samples, all individuals have already used the Qi wireless charging device and left good feedback on it. This cute little wireless charging pad is named Elf, compatible with all Qi-standard devices in terms of its Qi 1.1 technology.
Individuals who use this device will be able to enjoy the convenience of wireless charging and a full batter, no matter where they are. They will no longer have to worry about running out of power, as long as they have this device with them. This Elf can easily be embedded into the office table, kitchen platform, nightstand, inside the car or any other furniture of choice. When traveling, there will be no need to bring bulky cables along – this device will not take up much room at all.
The Elf has a built-in buzzer and LED light, which will help the user determine if it is connected to the power source or not.
Specifications of the Wireless Charger:
Qi version: Qi 1.1
Input: 5V 500mA-1500mA
Output: 5V800mA
Compatibility: It is compatible with all Qi standard devices.
Size: Upper Level: 58.4mm(D)*10.4mm(T); Nether level: 52.4mm(D)*2.5mm(T)
Weight: 35g
Extended Cable: 100cm
Built-in Cable Length: 30cm
Protection Functions: It automatically examines full charge and stops to transmit.
Surface treatment: Rubber Painting
Certificate: CE, FCC and RoHS
This wireless charging pad is available in colors White, Black, Grey, Red, Yellow, Blue, Green, Pink and Orange.
The cable that is built in to the Elf means that there will be no need to carry an extra cable around. Users will no longer have to worry about leaving their extra cable behind. The input of 5V is beneficial because with the built-in USB cable, simply connect Elf to any 5V power and it will power a PC, laptop, car charger, power bank and wall adapter. There is no need for additional adapters.
Many users would like the length of the cable, because it keeps their table clean and tidy looking. Not only is this a single Qi wireless charging product, it is also a good DIY component, which can easily be embedding into any piece of furniture.
About Esorun:
Esorun is the top seller for iPad accessories, iPhone accessories,multi-function keychain charger, power banks, wireless external hard drive and many other mobile accessories. Their headquarters is located in Shenzhen, China, but they sell products worldwide.