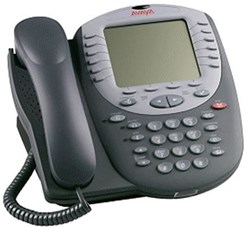 we offer businesses tremendous savings on Avaya 5600 IP phones compared to what they paid their telephone company or local contractors in the past
Niagara Falls, New York (PRWEB) August 21, 2013
Telephone Magic Inc. is a long time online wholesale supplier of Avaya IP phones for business phone system customers. Telephone Magic provides a quick and convenient portal for companies to source replacement legacy Avaya phones and accessories at wholesale prices. Government agencies, military bases, hospitals, educational institutions and Fortune 500 companies utilize Avaya phone systems and Telephone Magic Inc. has been supplying their telecom requirements since 1989.
"Business customers require cost-effective Avaya telephones," says Jeff Jackson, president of Telephone Magic Inc. "Our reputation was built with large and small Avaya users one order at a time by offering great prices on the IP Office phones we sell. That's why we continue to be a primary supplier for various branches of the US Government, call centers, hospitals and educational facilities worldwide."
"We receive requests for hundreds of Avaya 5600 series VoIP Office phones through our online business phone portal," Jackson continued. "These are from companies of all sizes from single sites to multiple networked branches that are expanding or replacing products that are coming to the end of their life cycle. By selling at wholesale prices, we offer businesses tremendous savings on Avaya 5600 IP phones compared to what they paid their telephone company or local contractors in the past. Purchasing direct from a wholesale distributor like Telephone Magic provides a strong financial benefit to business customers."
Avaya 5600 IP phones are a stylish legacy series packed with all the business communications features one expects in a high-end business phone and they provide up to 24 programmable feature buttons, giving you full control over your telecommunications environment. It is important to note that Avaya 5600 series telephones are only compatible with the Avaya IP Office phone system and will not work on any other Avaya platform.
The Avaya 5602 IP phone is a single-line digital telephone which offers a high-end feature set, including a productivity local call log and speed dial directory. With an advanced user interface, the 5602 phone's 2 line, 24 character display eliminates the need for paper labels. This basic model includes 2 programmable feature keys with 12 more accessed via the Feature key and 10 fixed feature buttons which ensure easy access to this phone's advanced functions. There is also a non-display 5601 basic VoIP model available.
The Avaya 5610 IP phone features a large 5 line, 29 character display, 12 programmable buttons, 14 fixed feature keys and 4 softkeys, a full-duplex speaker phone and other usability features. The 5610 phone offers a high-end feature set, including a productivity local call log and speed dial directory. With an advanced user interface, the 5610's large display eliminates the need for paper labels.
The Avaya 5620 IP phone features a huge 7 line, 24 character display, speaker phone and 16 programmable feature keys with twin lamps. There are also 8 fixed feature keys for common telephone functions. The 5420 telephone is typically used by receptionists and busy call center positions and managers.
The Avaya EU24 Expansion Module can be added to the Avaya 5420D phone to expand DSS capabilities for receptionists and call center positions. The EU24 expansion module provides an additional 24 programmable buttons with associated display label and status icons. One EU24 unit can be attached to a phone and only two can be utilized within on a single Avaya Digital Station Module. It is also important to note that the EU24 expansion module requires an Avaya 1151D1 Power Supply.
Telephone Magic Inc. is a supplier of business phone systems and telephones to companies ranging from Governments to SOHO. They carry phone equipment from major suppliers such as Avaya / Lucent and many more, all at wholesale prices. For more information on the full range of Avaya phones carried or the company, visit their industry-leading telecommunications equipment website or call toll-free 1-855-929-9199.