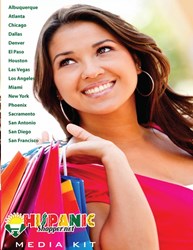 Phoenix, AZ (PRWEB) August 18, 2013
"HispanicShopper.net is one of the best opportunities for Hispanic businesses to grow and reach new consumers," Jill said.
Jill comes to HispanicShopper.net with over 10 years of television media sales experience.
HispanicShopper.net was founded in 1998 making it one the oldest and most established sites on the web. HispanicShopper.net currently operates in 16 United States cities: Albuquerque, Atlanta, Chicago, Dallas, Denver, El Paso, Houston, Las Vegas, Los Angeles, Miami, New York, Phoenix, Sacramento, San Antonio, San Diego, and San Francisco.
HispanicShopper.net is updated daily to ensure that its visitors have the most current tabs on their favorite sale items, news, and personal information. Social media include Facebook, Twitter, YouTube, LinkedIn, Pinterest, etc.
HispanicShopper.net's products and services make shopping easy to locate, browse, and buy from local businesses. In short, HispanicShopper.net will offer and distribute fine quality products and services in a safe, quick and cost effective manner for Internet users.
Hispanic Shopper.net will also use traditional media outlets such as, broadcast television, cable television, radio, print, direct mail, etc. to increase awareness and drive traffic to the new site.
Don't forget to tell everyone that you saw them in HispanicShopper.net!