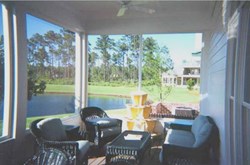 We have upgraded older screen enclosures and patio rooms to meet today's tougher standards.
MIAMI, FL (PRWEB) August 21, 2013
The abilities of Venetian Builders, Inc., to upgrade sunrooms and screen enclosures that were built before the current Florida Building Code went into effect helped to boost residential work in Plantation, Fla., during the first half of 2013, Venetian President Chris Noe said today.
"Upgrading older screen enclosures is an especially good idea for homeowners who want to preserve the integrity of their home additions," Noe said.
Repairs and upgrades of Plantation patio covers and swimming pool screen enclosures pushed first-half sales figures there for the company beyond Plantation sales for all of 2012, Noe said. "That's been a trend for us," Noe said. "Already this year, throughout the four counties that we serve, we've nearly equaled or surpassed sales volume for all of 2012. Overall, it's a record year for us after just six months. We're on course to increase sales over 2012 by about 150 percent."
Venetian designs and installs aluminum sunroom additions, patio roofs, patio covers and screen enclosures in Palm Beach, Broward and Miami-Dade counties, and in the Keys in Monroe County. It is the exclusive installer of those structures for 41 Home Depot stores in South Florida.
The company also repairs and upgrades existing Florida rooms, patio enclosures and pool screens. "We have upgraded older screen enclosures and patio rooms to meet today's tougher standards," Noe said. "We've even been able to save older, substantial structures from having to be razed because of their failure to meet code."
Among the upgrades Venetian can perform are the installation of stronger gussets, heavier-duty stainless steel fasteners, additional corner bracing, other frame strengthening and new screening.
Upgrades on older facilities are especially important for homeowners living in high-wind areas, such as along canals, lakes, ponds, parks and golf courses, Noe said.
Venetian offers written, detailed, free estimates on repairs and upgrades, as well as on installation of Florida rooms, patio enclosures, aluminum or wood patio roofs, and swimming pool screens.
For more information call 866-596-2427.