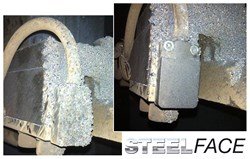 Florence, KY (PRWEB) August 20, 2013
For error-proofing and part-present applications in heavy manufacturing, inductive sensors are often - by necessity - placed directly in harm's way. Impact, abrasion, and particulate erosion can destroy conventional plastic-faced sensors and their thin metal bodies.
Balluff SteelFace™ sensors are designed and built tough to survive longer in your most abusive applications. For applications that require something more compact than a tubular sensor, Balluff is pleased to offer the all new flatpack SteelFace sensor. The one piece stainless steel housing offers a robust operating face for the most demanding applications. And Balluff's all new patent pending coating makes it the ideal sensor choice for extreme applications.
Features of the new Flatpack SteelFace Sensors:

One piece stainless steel housing
5mm operating distance (Flush)
Factor 1 – All metals can be sensed
Weld slag resistant W51coating – (Patent Pending)
Weld Field Immune
High switching frequency
Round corner housing
Balluff's new flatpack SteelFace sensors are ideal in welding and stamping applications. They can also be used in the automotive and automated assembly industries, or any other heavy manufacturing areas where impact and abrasion pose a problem for sensors.
Learn more about these new SteelFace sensors from Balluff.
Download the high resolution photo on Flickr.