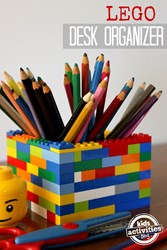 The colorful LEGO desk organizer and the colorful abacus will brighten any back to school desk and will make learning much more fun.
Dallas, Texas (PRWEB) August 30, 2013
Encouraging kids to make a LEGO desk organizer can help kids to think about organization while playing. The LEGO project together with the tutorial about how to make an abacus can help make school learning more fun.
Making a LEGO desk organizer is easy and fun to do. Using a baseboard is optional. Simply use a variety of LEGO bricks and let the kids create a sturdy rectangle. Once the rectangle is established, let them build on their own layers of multi-colored bricks.
Optional activities are making a pattern with specific colors or adding LEGO mini figures on top of the wall. The colorful LEGO desk organizer will brighten up the kids' desk.
An abacus makes a great tool for teaching about addition, subtraction, multiplication, division, and even place value. Materials needed to build the abacus include popsicle sticks, bamboo skewers, pony beads, wood glue and a pencil.
Assemble the popsicles and bamboo skewers according to the template on Kids Activities Blog. There are plenty of opportunities for the little ones to help. The abacus will make a handy tool for any back to school desk.
For detailed instructions and to get additional fun back to school tips, check out Kids Activities Blog this week. Come get inspired to get the kids back into a fun school routine.
About Kids Activities Blog
Kids Activities Blog is a website created by two moms (who collectively have 9 children), Rachel Miller and Holly Homer from June Cleaver Nirvana. It is their daily goal to inspire parents and teachers to play with kids. This interactive website publishes simple things to do with kids twice a day. Kids Activities Blog is a great tool for moms and teachers to find kid-friendly activities that create memories and sneak learning into the fun.