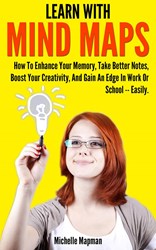 If you're looking for a way to learn faster and make better use of your brain, this book is the perfect companion.
(PRWEB) August 21, 2013
"Learn with Mind Maps – How to Enhance Memory, Take Better Notes, Boost Your Creativity and Gain an Edge in Work or School – Easily," inspired Michelle Mapman to adopt and share the learning secrets of Leonardo DaVinci and Albert Einstein.
Having personally benefitted through an improved memory, and now being able to brainstorm more creative ideas quickly, Mapman aims to share her knowledge of using mind maps with others.
For a limited time on 21-25 August 2013, the highly rated eBook on mindmaps will be available for free download. The Kindle version is usually sold for $9.99 on Amazon.
The 109-page eBook is a practical guide for students and working professionals to learn mindmapping skills. Individuals who have already started using mindmaps in their lives can also expect advanced mindmapping techniques in this book.
The book also thoughtfully features 4 chapters on how one can easily apply mind mapping to their daily lives – how to use mindmapping everyday to organize work, play and leisure; how to use mind maps for studying and note taking; how to use mindmaps for reading and writing; as well as how entrepreneurs can use mindmaps to juggle various aspects of their business.
Buyers of the eBook are also given a complimentary 1-year trial at ConceptDraw, a mind mapping software that allows readers to take immediate action from the book, and start boosting their brainstorming skills.
More information about how "Learn with Mind Maps" can help you gain a competitive edge in school and work easily is available at the Amazon Kindle bookstore.
Click here to download now before it reverts back to the price of $9.99.