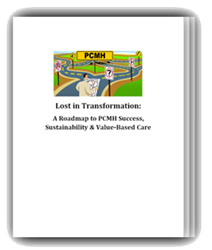 "'Lost in Transformation' is about helping you leverage all your resources to meet the full intent of the applications, and create a foundation for long-term, sustainable success." - Shannon Nielson, HPC
Santa Rosa, CA (PRWEB) August 20, 2013
Delivering health care in today's technology-driven world is challenging. Providers are adjusting to the use of electronic systems, and financial incentives for Patient-Centered Medical Home (PCMH) Recognition and outcome reporting are bringing to light the various new resources that are needed.
In order to overcome the hurdles associated with today's initiatives and make efforts sustainable, health care organizations today require a solution that includes more than just software. i2i Systems' new white paper, "Lost in Transformation," explains how to transform to a Patient-Centered Medical Home through a dedicated, highly structured and multifaceted whole-practice redesign.
Click here to download a complimentary copy.
A pioneer and leading provider of Population Health Management solutions, i2i Systems' "Lost in Transformation" addresses key questions facing organizations undergoing PCMH transformation, including:

How will we accomplish the transformation and the reporting?
Do we have the right tools available to the right people?
Do the appropriate people have the right training?
Are we providing the training required by PCMH so individuals can transform?
Key topics covered include:
Knowledge on Demand Analytics Platform: i2i Systems recognizes that it takes a tightly integrated package of software, services and community – which aligns with the new PCMH, MU, Triple Aim, and other pay-for-performance initiatives – to fully leverage data and optimize performance and profitability.
The PCMH Toolkit: By establishing a deeper understanding of what our clients were facing in their process and listening to their need for more than just software, i2i Systems developed importable Toolkit solutions for i2iTracks to help them in their PCMH journey.
Four-Step Plan to Success: i2i Systems offers support from partner PCMH Content Experts committed to renewing the transformation experience and achieving PCMH success. One proven approach involves this actionable four-step process: Engage, Activate, Transform, Sustain.
"'Lost in Transformation' is about helping you leverage all your resources to meet the full intent of the applications, and create a foundation for long-term, sustainable success," said Shannon Nielson, Product and Compliance Manager of Health Partners Consulting.
About i2i Systems
Founded in 2000, i2i Systems is a pioneer and leading provider of Population Health Management and Business Intelligence solutions. We are focused exclusively on creating healthier populations by partnering with – and empowering – health care organizations in their journey to deliver the highest quality care. We deliver business and population health intelligence through smart technology that supports easier and greater access to data, and improves the efficiency of the care team staff. Our goal is to enable dedicated providers to practice at their best by supporting them with a tightly-integrated solution of systems, services and community. For more information, visit http://www.i2isys.com.