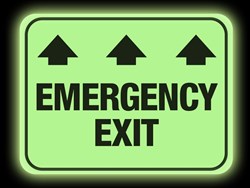 "The glow in the dark exit signs are much more affordable in costs and time than the standard LED signs. We will never go back to LED signs."
Lake Oswego, OR (PRWEB) August 29, 2013
Power outages due to electrical problems or weather related can be a threat to business owners and the safety of their employees and visitors. When emergencies happen, existing the building can be a life saver. Creative Safety Supply is now offering glow in the dark exit signs to help people find their way out of a dangerous situation. When the lights go out, it is important that employees and visitors can find the emergency exits, and these signs will do just that.
The exit arrow floor signs are compliant with OSHA's standards and are made from durable material that will hold up to extreme environments making it ideal for any type of business. They are available in different sizes along with arrow directions in left, right, up, or down. These signs will resist the constant flow of foot and forklift traffic that is often seen in large manufacturing plants or warehouses. The signs are easy to install with the peel-n-stick application. Creative Safety Supply also offers the availability to customize exit signs at no additional cost. A different text message or image can be made to suit a particular need.
Glow in the dark exit signs are superior and more efficient than electrical signs since there is no power needed for the sign, no electricity costs, batteries do not need to be tested on the backup system, no maintenance and operating costs of replacing batteries or bulbs, and no need to hire an electrician to run electrical wiring to the sign. Additionally, glow in the dark signs have a longer lifespan compared to a typical LED exit sign.
A business owner commented, "The glow in the dark exit signs are much more affordable in costs and time than the standard LED signs. We will never go back to LED signs."
For more information about Glow in the Dark Exit Signs, please visit Creative Safety Supply or call toll-free (866)777-1360 to speak with a professional representative.