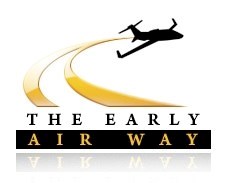 Los Angeles, CA (PRWEB) August 20, 2013
The Early Air Way, an international private jet charter firm, has launched a new program to enhance the private jet travel experience for those who currently subscribe to jet card and fractional ownership programs. The new program, coined "Jet Hedging," was developed after founder Alex Early noticed that the most frequent of private jetsetters who have pre-paid jet cards don't know that they can benefit from on-demand private jet charter.
Through the Jet Hedging program, jet-card holders submit their upcoming flight schedules to The Early Air Way for a complimentary analysis of their planned flights. The company then provides a cost comparison for each flight on the passenger's schedule, comparing the price to make the trip on a plane from their wholesale-based variable program verses the cost to the customer to use their fixed price program.
Early's Jet Hedging program provides travelers with a better price in about 90% of cases by introducing jet-card holders to his company's completely different method of aircraft procurement.
"Card holders generally assume that using their fractional ownership program will always be the most economical way to fly private, and that's just not the case," says Early. "The reality is that forking over a lump sum of money upfront for a jet card membership does not guarantee advantageous rates over individually-purchased charters."
The Jet Hedging program can save jet-card holders upwards of 50% for the same type of aircraft on many of their trips, even more if an empty-leg is involved. This is the result of passing along wholesale market inventory directly to the consumer as opposed to a fixed-priced system that consumers may be accustomed to. The disadvantage is that prices will vary trip-to-trip with Early's system. "Roughly 10% of the time, particularly for very short trips on large aircraft, the customers' card programs may be more economical, and our specialists will advise using pre-paid hours in those instances," Early states. "Customers are amazed at how much they can save on the majority of their trips, however, and that's what the Jet Hedging program is here to show them."
About The Early Air Way
The Early Air Way is a private jet charter firm founded in 2007. Based in Los Angeles, CA, the company specializes in any flight within, to, and from the United States. The Early Air Way utilizes proprietary means to track inventory of over 5,000 privately owned part 135 aircraft across the world in order to minimize cost due to superior logistical efficiency. Their mission is to provide the highest quality of private jet charter services, at a fair price, while providing honest and knowledgeable guidance to their clientele. The Early Air Way's clients include members of the Fortune 500, heads of state, government entities, celebrities, and many frequent jetsetters. For more information, visit http://www.theEarlyAirWay.com.