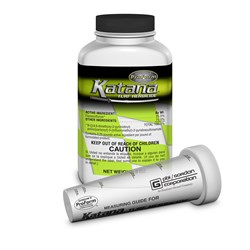 Katana (flazasulfuron) can now be used, in the Golden State, for the first time as a targeted
residential weed control option and in a wider variety of sports turf applications.
Kansas City, Mo. (PRWEB) August 20, 2013
PBI-Gordon Corporation announced that its Katana® Turf Herbicide received registration with the State of California Department of Pesticide Regulation, allowing its use as a spot treatment on residential lawns. Additionally, there are expanded use directions on professionally managed sports turf; previously, it had been approved only for "professionally managed college and professional sports fields". The herbicide had previously received EPA registration and been available in most southern and transition zone states.
The labeling permits Katana to be used on golf courses (fairways, roughs and tees) and the following turf areas: industrial parks, tank farms, sod farms, seed farms, cemeteries, professionally managed sports fields, commercial turf and residential turf. In residential turf grass, Katana can be applied on up to 10 percent of a lawn through targeted or spot treatment with spray directed on the weeds.
Katana Turf Herbicide is part of PBI-Gordon's ProForm® product line of fast-acting herbicides. Like other products in this line, Katana continues to work in cooler weather, and is not as temperature-dependent as competitive products.
The herbicide is labeled for control of 58 weeds including sedges, grasses and broadleaf weeds with post-emergence and some pre-emergence activity. Highly selective in bermuda, zoysia, centipede and buffalo grasses, and seashore paspalum, Katana is also an excellent product for removal of overseeded cool-season grasses. In addition, university trials prove Katana excels in controlling Poa annua, ryegrass, clumpy ryegrass, Poa trivialis, tall fescue and annual ryegrass in warm-season turf.
For more information on Katana or other PBI-Gordon products, visit pbigordon.com/katana.
About PBI-Gordon
With a robust line of herbicides, insecticides, growth regulators and other products, PBI-Gordon Corporation is a national leader in the professional turf and ornamental management industry. The company also develops and markets products for the consumer lawn, garden, and farm and ranch markets, as well as animal health and grooming in the consumer and veterinary markets. Based in Kansas City, Mo., PBI-Gordon has been in business since 1947 and is 100 percent employee-owned. For more information on PBI-Gordon or the company's products, visit pbigordon.com or call 800.821.7925.
# # #