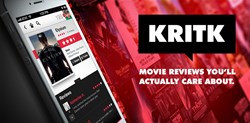 North Chelmsford, MA (PRWEB) August 20, 2013
Available now in the iTunes App Store, the Kritk app enables movie lovers to discover new films through brief and relevant reviews posted by friends and influencers, as well as earn incentives by posting their own ratings and reviews. Since Kritk launched in the App Store on Aug. 8, its users have reviewed 4,000 movies in the app.
Kritk was developed by Bonfire Tides (http://www.bonfiretides.com), a Massachusetts-based digital production startup, as a way to help filmgoers connect with friends to quickly discover, rate and review movies. The app limits user reviews to 150 characters, effectively side stepping lengthy, formal reviews from professional critics to deliver concise and fun opinions from the people users trust most – friends, family and influencers.
Incentives for Kritk users include a point system where clever or insightful reviews are up-voted throughout the network and displayed in a trending ticker at the top of the home screen, making it easy to view the most relevant opinions right away. Users can search for a title or browse new releases and detailed information including the full trailer, movie poster, cast, synopsis, release date, and more are available with the swipe of a finger. A new update to the app allows users to find and follow friends from the search bar, and upcoming plans include adding movie trivia, new badges, and movie recommendations.
"With the seemingly ever-rising cost of movie theater tickets, it's more important than ever for casual moviegoers and novice film buffs to have access to honest critiques from relatable and reliable sources," said Ryan Capers, co-founder and technical lead at Bonfire Tides. "Unless you're a true cinephile, a glowing movie review from your best friend will probably sway you more than one from a film blogger."
"A year and a half ago we decided that the world needed a great new way to share and discover movies – everything from the Oscar winning to the awesomely bad," said Craig Henry, co-founder and creative lead at Bonfire Tides. "We'll always revere the opinions of professional film critics, but sometimes you just want a quick answer from a trusted friend: did you like it or not and why? Tell me in 150 characters or less."
Pricing and Availability
Kritk is now available as a free download in the iTunes App Store. For additional information, including screenshots, download the Kritk press kit at http://kritkapp.com. Join the conversation: Like Kritk, and follow @kritkapp on Twitter.
Press Contact: 
Kritk PR 
kritk(at)bonfiretides(dot)com