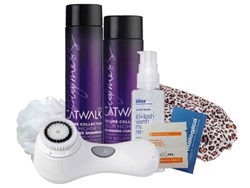 A woman will never look back and say she started her anti aging routine too early in life!
(PRWEB) August 21, 2013
Must do number one is to master the art of the selfie. The days of amateur looking instagrams and unflattering snapchats are over. Follow a step-by-step guide on how to get the best lighting, angle, and response!
Number two and three are health and beauty related. College town fare may be cheap and fast, but odds are it isn't rich in the nutrients that give your hair shine, and strengthen your nails. Must number two is make a roommate pact to eat foods rich in protein and vitamins A & E, like salmon & avocado at least three times a week. Split the groceries and share the compliments. Not to mention, these foods will help scare away the freshman 15. Number three is to start an anti aging routine. It is never too early and while a college student is sure to be exposed to late nights of studying (wink, wink), game day tailgates in the harmful sun, and second hand smoke at night, there is no better time to start. A woman will never look back and say she started her anti aging routine too early in life!
Speaking of being responsible, it's time to start removing gel manicures properly and let go of peeling them off with disregard to the brittle, papery nail result. Number four is to stock up the communal bathroom with cotton swabs and nail polish remover. Press acetone soaked cotton swabs to nail beds and wrap in aluminum foil. Let them sit for 10 minutes and the gels will slide right off.
To do item number four will make number five more pleasant; try nail art. With endless tutorials available, a student can save money by creating an at home nail salon. An at home dotting tool and nice color selection can make any boring mani into funky nail art.
Speaking of maturing, it is also time to step up make up attempts. With the cooler months coming, ladies can experiment with different makeup techniques that require more layers. Tip number six is learn how to contour. Contouring can accentuate cheek bones or even make a wide nose appear thinner. Appropriate makeup brushes and reliable foundation and bronzer are mandatory.
Although the seasons are changing, a student still has a schedule that allows for personal time. Musts number seven and eight are master the beachy wave hair style with DIY sea salt spray, and perfect self tanning skills for a bronze look and slimming effect.