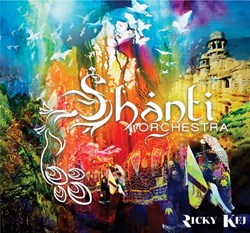 Ricky's music is Divinely sophisticated and touches the soul with great purity. It brings a joyful peace to the heart and a clarity to the mind.
New York, NY (PRWEB) August 20, 2013
Long one of India's most prolific young composers in the worlds of advertisements, film scores and jingles, composer-producer Ricky Kej released his first independent album today, the New Age-style album called Shanti Orchestra. Collaborating with over 20 world-renowned musicians from diverse places including Los Angeles, South Africa, India, Congo and Qatar, Kej delivers an ethereal, worldly, and chill album that serves as a timely update for fans of Buddha Bar or Enigma.
On Shanti Orchestra, Kej collaborates with international talent including Alexis D'Souza, Junior Bay, Praveen Godkhindi, Wouter Kellerman, and sitar master Paul Livingstone, a prominent voice throughout the project. While Kej didn't start off with a concept per se—wanting to give space to express his feelings in a free-flowing blend of music and harmony—the Shanti (meaning "peace" and "equilibrium") theme emerged when he realized that every groove, every note and every sound somehow came together perfectly as if they were created to be played together. As Kej says, "I believe just like music can be harmonious amidst so much chaos, so can the world. Music works best when there is harmony and not when notes are in unison."
While Kej has produced and appeared on dozens of albums across various record labels, so striking is the music on this first independent effort --Shanti Orchestra -- that an early promotional copy of the album quickly led to an invitation for Kej to become an ambassador for the U.S.-based non-profit Project Peace on Earth.
"We are thrilled and honored to have Ricky Kej join as one of Project Peace On Earth's (PPOE) Musical Ambassadors," stated its Founder and CEO, Steve Robertson on August 14, 2013. "Ricky's music is Divinely sophisticated and touches the soul with great purity. It brings a joyful peace to the heart and a clarity to the mind. These are the qualities of music we most look for in selecting musicians to represent PPOE and our message of inner peace causing outer and world peace."
Robertson notes that Kej will represent PPOE in its upcoming World Forgiveness Project planned for December of 2013. He also confirmed that Ricky will play a key and central role in all of the organization's future peace initiatives.
Kej is no stranger to good works. Born in the U.S. to a family of doctors, he was raised in India, a combination that surely influences his creative drive to uplift and unify people through music. And going beyond producing music, Kej is renowned for his charitable efforts benefitting animals and musicians, including The Majolly Music Trust, of which he is a Founding Trustee along with world renowned pianist Neecia Majolly, Director of the Trust. The masterstroke of the Trust is to create a Pension Fund for aged and infirm musicians, the first of its kind in India, while also funding and supporting several Music Education initiatives.
Shanti Orchestra has received high praise to date. Veteran music writer Jonathan Widran notes, "Ricky Kej shares a deeply felt, fascinating journey rich with dreamy melodies, deep downtempo grooves and exotic instrumentation on his ethnically diverse new collection Shanti Orchestra," while Michael Diamond of Music & Media Focus commented "The music of India has a rich tradition that is expanded on by Ricky Kej," adding that he "infuses it with a fresh perspective, including contemporary elements of ambient music and downtempo grooves to create a transcendental sound that is exotic, yet accessible." New Age music reviewer Bill Binkelman expands with "Composer Ricky Kej has gathered a global consortium of instrumentalists and vocalists and turned them loose on the world on Shanti Orchestra, a CD bubbling with a heady blend of pan-Asian flavors sprinkled among downtempo rhythms, world fusion motifs, dramatic sweeping melodies, and ethereal vocals. Forming a comparison to other artists or albums simply breaks down because Shanti Orchestra brims over with originality, inventiveness, and abundant musical virtuosity…."
The striking cover art for the album cover was created by Harris Backer, one of the leading graphic artists in Asia, seemingly creating harmony in chaos to match the overriding musical theme. Beautiful music videos support the album, with elaborate yet relaxing pieces for "Exotic Dreams," "Pieces of Heaven," "Blue" and "Forever" available on Kej's YouTube channel.
Shanti Orchestra is available both physically and digitally, released via Kej's own record label Raveolution Studios, with Lazz Promotions servicing radio. Kej plans to release additional new age and world fusion albums through his U.S. distribution team over the coming years, which includes digital distribution through BFM, and physical distribution through Clay Pasternack Inc. and New Leaf Distribution.
Links:
Website: rickykej.com
Studio: raveolutionstudios.com
Facebook: facebook.com/rickykejmusic
Youtube: youtu.be/gYWlrDJHtv4
Itunes: https://itunes.apple.com/in/album/shanti-orchestra/id663494103
Amazon: http://www.amazon.com/gp/product/B00DH70YZE/ref=dm_sp_alb