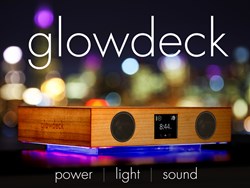 "The hope is that other people will get as excited about Glowdeck as I am and pledge on Kickstarter to help bring it to life," said creator of Glowdeck, Justin Kaufman
New York, New York (PRWEB) August 20, 2013
The Power Light and Sound Company, Inc. proudly announces, Glowdeck, the world's first three-in-one mobile product that features wireless mobile device charging, interactive light notifications, and superior Bluetooth enabled speakers and microphone.

Charging: Glowdeck wirelessly charges mobile devices the instant they are placed on top of the deck. The mobile devices will begin to charge as if they were plugged directly into the wall.
Sound: Glowdeck comes with a pair of high-quality Bluetooth speakers that allow users to pair their Bluetooth-enabled mobile device to listen to music, make phone calls, or wirelessly stream audio. It also comes with an embedded microphone so the phone's voice commands and speakerphone can be used while charging.
Light: Glowdeck's light system sets it apart from all other wireless chargers on the market. Owners can be notified of incoming and missed calls and texts with distinctive light routines. This allows the user to step away from their phone while still being aware of mobile activity with a simple glance from across the room. The light system also interacts with the Bluetooth speaker, to provide a colorful light show that syncs up with the music played from the mobile device in real time.
Wi-Fi enabled: Glowdeck provides all of the above while seamlessly connecting to the local Wi-Fi network to display information in real time. Users can select and customize up to six widget-like "Decks" – with options like weather, trends, unread emails, news, etc. – to keep up to date. The display, along with the lights and sound system can be customized by using a web browser or via a mobile app. All of Glowdeck's features can also be used without internet connection.
Portable: Glowdeck runs on a high-capacity internal power supply which can run for over 30 hours in standby mode and up to 18 hours when in use depending on how many features are engaged.
"I created Glowdeck because I wanted a better way to wirelessly engage my phone in my apartment," said Justin Kaufman, creator of Glowdeck. "It evolved into something more versatile than I expected. Whether it's sitting on an office desk, a night table, or a DJ station, Glowdeck looks like it belongs. The hope is that other people will get as excited about Glowdeck as I am and pledge on Kickstarter to help bring it to life."
Glowdeck comes in three real wood finishes – maple, cherry and walnut – and one non-wood black version. Three editions of Glowdeck are available; the "mini edition" which charges one device but doesn't include the speaker system, the "single device edition" which has all of the bells and whistles, but charges one device wirelessly at a time, and the "multiple device edition" which has all of the features and can wirelessly charge two devices simultaneously.
For more information on the device, check mobile phone compatibility and to support the Kickstarter project, please visit: http://www.kickstarter.com/projects/glowdeck/glowdeck-wireless-power-light-and-sound/.
About The Power Light and Sound Company, Inc.
The Power Light and Sound Company is the brainchild of Justin Kaufman to help bring creative and groundbreaking inventions to consumers. The company was founded in 2013.