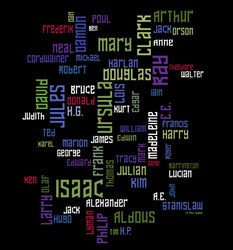 Commemorate author Ray Bradbury's birthday on August 22nd with a geeky t-shirt from Tees For Your Head.
Santa Cruz, CA (PRWEB) August 21, 2013
Tees For Your Head salutes Ray Bradbury, one of America's early contributors to the fantasy/science fiction canon. Surprisingly, he did not consider himself a science fiction writer. He loved the writing of H.G. Wells and Jules Verne, and called himself a writer of fantasy, because he said that fantasy was not real, while science fiction was fact-based.
His books "Dandelion Wine" and "Something Wicked This Way Comes" (who does not at least dimly recognize these titles?) reflected small-town life rather than futuristic or distant worlds, yet Bradbury is still perceived as a science fiction writer by most.
It's easy to look Bradbury's career from a distance and consider it to have been a walk in the park. It was not so simple at the time, however.
He spent many discouraging hours trying to sell his work and being turned away by editors until he was finally given a break. He persisted, and believed in his work, and made connections that he maintained for a lifetime. Lessons for anyone pursuing a creative career: it's never easy, but for those who burn with creative fire, the pain is worth the price.
An amusing choice to commemorate the occasion of his birthday is the Keep Calm But Watch the Skies t-shirt, although many would choose the SF Writers t-shirt instead. This tee lists first names only, which can lead to pontification on which Robert, exactly, might be referenced, and why Eileen was left out, when she clearly deserves to be on the tee.
Bradbury also was an admirer of Edgar Allan Poe. Tees For Your Head designer Karin Carter says, "I'll bite. If Poe were alive today, I'd bet he'd be writing about one or both of the monsters of the moment, vampires and zombies. So I'll be a speaker for the dead and say that by the science of transitive enjoyment, Bradbury would like the Cuidado Xombis t-shirt." The Cuidado t-shirt plays with the need for caution around zombies by placing a target on the wearer's chest, while warning of the need for caution in Spanish. Why? The tee was created in bilingual California, after all, and the designer's particular form of geekery is languages, both foreign and native.
Bradbury, unusually, read poetry every day. He valued the poetic and beautiful expression of ideas, rather than simply flat and factual transmission of information. The Poets t-shirt would also be appropriate to celebrate his birthday.
Choices aplenty; just be sure to celebrate! In addition to making a good choice sartorially, having a good book in hand, even if it's in digital form, would also be an homage to a writer who formed an integral part of the science fiction/fantasy canon.
About Tees For Your Head
The online home of geeky t-shirts for lovers of the arts and sciences was launched in 2012. Husband and wife team Tom Bates and Karin Carter have an arts and science background and create their own designs to appeal to the geeks of the world. Santa Cruz tee shirt designs are in the works for this Santa Cruz-based business.
By the way, Tees For Your Head shirts are worn on the body, not really on the head. Just a helpful hint.
Find their unique and nutty tees at http://www.teesforyourhead.com online now. Visit the Tees For Your Head YouTube channel, too to check out their growing collection of videos. Be sure to join the conversation by leaving feedback, because Tees For Your Head would love to hear what people think!