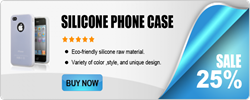 (PRWEB) August 20, 2013
TOGOHK.com is a reliable supplier of silicone products. Recently, the company has launched a silicone phone case promotion (see: http://www.togohk.com/?gallery=silicone-case), up to 25% off, to expand its market share. Now, all clients can get a discount before August 31, 2013.
The company's products include silicone cases, silicone tubes, silicone bracelets, silicone kitchen utensils, silicone seals and other silicone rubber products. All these products are guaranteed to be of premium quality, because they experienced a strict quality management. The silicone phone cases are no exception. Moreover, some new designs of silicone seals are currently part of the announced promotion.
"We are happy to launch the promotion, which is valid for a limited time only, or you will have to pay more in the near future. Now, we are carrying most of the hottest silicone phone cases in the market, and these cases are specially created by our elite designers," said, a sales representative of the company.
Thanks to the innovative designs and 24/7 customer service, the company has become a leader in the industry. Similarly, the company is now cutting prices on some of its popular product ranges like silicone cake mold collection, silicone O-ring collection, and more. All of the products are in stock and ready for shipment.
The sales representative adds, "We're now one of the few original manufacturers specializing in silicone products. If you want to purchase cheap silicone cases, silicone tubes, or silicone bracelets, you should not miss this opportunity."
About TOGOHK.com
Founded in 2003, TOGOHK has developed into a modern enterprise that offers its clients worldwide a one-stop silicone product solution from conception to delivery. With high technology engineering and advanced CAD and CAM, the company has been serving more than 3000 customers from over 70 countries.
For more information about the business, please visit their website at: http://www.togohk.com .