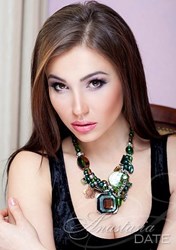 (PRWEB) August 20, 2013
Anastasia Date is growing in popularity as thousands of new members rush to join the exclusive online dating service. The company is now firmly positioned as one of the best and most popular online dating services available on the internet today.
The company is delighted to be regarded as one of the best in the world for its popular brand of international dating. Anastasia Date announced the good news recently after recording further growth in memberships from individuals all over the globe keen to experience its exclusive international service.
The company received praise from customers for the way it provides a discreet and trusted service, helping members to connect with beautiful ladies from abroad. Anastasia Date has been a leading light within the dating industry for over two decades, and this most recent news is an indication that it will continue to prosper in the years ahead.
Members praise the company for all the state-of-the-art services available on the site. As members, they can browse profiles of other attractive members, send personal messages and enjoy communication via live Video Chat. Anastasia Date is also praised for the way it looks after each and every member.
The exclusive service protects member information and provides the highest level of technological support for every aspect of its service. Anastasia Date is well known for its innovations in dating technology. The company has enjoyed great success with its recently launched app, which is available in Google Play.
The Anastasia Date mobile app is available to download free, and provides members with a way to access their profiles and enjoy dating directly from their mobile devices. This ability to enjoy dating wherever members are has greatly increased interest in the company. Mobile technology is big business today and growth in this area of the internet is huge.
Thousands of Anastasia Date members have already downloaded the app and left high praise for its functionality and design. The company has stated it is delighted to receive such high praise and positive feedback.
The majority of members are successful and educated business people who are interested in meeting other like-minded individuals from far away shores.
In this respect, the company is unique. Although there are many other less popular dating sites, AnastasiaDate is the only service to offer such exclusive access to beautiful and charming international ladies. This is the very essence of what AnastasiaDate offers. The company is proud of its reputation as a leader on the world stage of international dating.
Many hundreds of happy couples have found romance and love as a result of the hard work and dedication of the entire AnastasiaDate team. The company is sure to continue growing, and going from strength to strength as its highly regarded reputation grows, and word of this fine service spreads around the world.
About AnastasiaDate
AnastasiaDate is the leading international dating service that facilitates exciting and romantic companionship with beautiful and interesting women from all over the world. Founded in 1993 by a Russian-American couple, AnastasiaDate now has over 4 million international users and attracts more than 10 million online visits monthly. Additionally, over 1.5 million conversations are exchanged onsite daily. AnastasiaDate is committed to member safety, customer satisfaction and the ongoing pursuit of innovation. Headquartered in Moscow and New York with additional representation in every country it touches, AnastasiaDate provides a high level of customer service to a worldwide clientele. AnastasiaDate users are able to communicate across a variety of top-notch multimedia platforms, including Video Chat and a mobile app for Android devices available in the Google Play store.