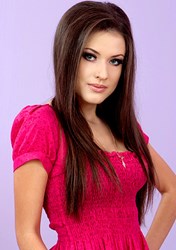 (PRWEB) August 21, 2013
AnastasiaDate is the leading exclusive dating service offering high quality international dating to over four million worldwide members. The company recently announced that it has made further improvements and added new functions to its website.
These newly added developments are part of the company's ongoing dedication to its members. AnastasiaDate works hard to ensure that the website, mobile app and all systems are working efficiently at all times. Part of this process regularly involves the development team adding new functions which improve performance. The team is responsible for making sure the website, the live Video Chat, all personal messaging and the mobile app are in perfect working order at all times.
AnastasiaDate recently added a new email function to its mobile app, which is available to download from Google Play. This latest set of new improvements to the website marks the next phase in a year round range of ongoing technological improvements the company intends to implement.
The company is very well known for its professional and innovative use of the latest technology to give members the best possible online dating experience. In addition to a highly professional team of developers, AnastasiaDate also has talented designers who work hard to make sure the website is always looking beautiful. Just a quick look at the website shows that the team is achieving its goal! The website is beautifully designed and expertly created to make using it simple, easy and enjoyable.
This attention to detail, and consideration for members, is why the company consistently does well, and why so many millions of members choose AnastasiaDate as their number one online dating site. Millions of successful and attractive American businessmen have joined the exclusive service so they can connect with the charming and articulate ladies available on the site.
AnastasiaDate provides members with the chance to reach out and connect with wonderful people they might otherwise never have the chance to meet. It is instrumental in helping people overcome distance so they can talk to each other and find companionship and romance.
The company's recent announcement comes at the perfect time. Numbers continue to grow significantly and the company has set itself the ambitious target of reaching five million members very soon. There is no doubt that the company will achieve this goal. As membership figures grow consistently every month, and more people learn of the exclusive dating service, there is no doubt that AnastasiaDate will reach five million in the very near future.
The company is looking forward to working hard over coming weeks as it continues to develop and improve all the member services. The entire team are focused on making sure everything continues to run smoothly and that all members are able to continue enjoying their online dating.
The company is proud of its reputation as an exclusive and special way for international people to connect and find love. It hopes members enjoy the new improvements and looks forward to hearing feedback from them.
About Anastasia Date
AnastasiaDate is the leading international dating service that facilitates exciting and romantic companionship with beautiful and interesting women from all over the world. Founded in 1993 by a Russian-American couple, AnastasiaDate now has over 4 million international users and attracts more than 10 million online visits monthly. Additionally, over 1.5 million conversations are exchanged onsite daily. AnastasiaDate is committed to member safety, customer satisfaction and the ongoing pursuit of innovation. Headquartered in Moscow and New York with additional representation in every country it touches, AnastasiaDate provides a high level of customer service to a worldwide clientele. AnastasiaDate users are able to communicate across a variety of top-notch multimedia platforms, including Video Chat and a mobile app for Android devices available in the Google Play store.