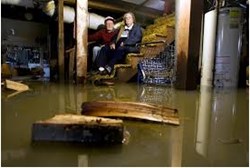 So in a 25 year period, each [owner of a battery powered pump] will have sent 5-8 batteries and 2-3 backup pump systems to a landfill or recycling facility.
(PRWEB) August 22, 2013
Water is precious and should not be wasted. A water-powered backup sump pump uses water during its run cycles. However, we cannot ignore that there are at least 5 ways that a water-powered backup sump pump is superior to a battery-powered backup sump pump when it comes to being "Green." Since these are the only viable choices for basement flood prevention today, we must address these issues.
1. Pollution: Water powered pumps do not pollute the ground water system. Instead, the water they discharge is a recirculation of non-polluted ground water along with the "city" water back into the ground water collection system. The water that is used as an energy source is not changed, polluted, or destroyed but simply returned back into the water supply. This is the same water that falls from the sky in the form of precipitation. Nearly every populated area in North America prevents this water from being discharged into the sewage system to become heavily contaminated and must be cleaned and disinfected again. No, this water must be discharged into the Storm Drain System instead, where it goes directly back into the water supply and is "cleaned up" by natural filtration, etc. Nothing is contaminated or polluted by this operation in any way. However, this water use and discharge is often greatly exaggerated while someone advances one's own agenda, and is often far from the actual truth.
2. Toxic Waste: A water powered pump produces no toxic waste of any kind, during its use or non-use periods. A battery powered backup sump pump produces several types of waste products at all times. Even though batteries are recycled, they are not 100% recycled. There are toxic waste byproducts disposed of when batteries are manufactured. Although battery manufacturers are extremely conscious of these waste products and do their best to reduce these to a minimum, there is still some toxic waste produced. And even when batteries are recycled, there is toxic waste produced in the re-manufacture of old batteries into new batteries. Toxic waste includes mercury, lead, nickel, magnesium, plastics, and other metals, etc. And this assumes that everyone recycles those old used batteries. In many cases, they are simply left to rot in the basement or are hidden in the trash and dumped into a landfill.
3. Toxic Gas Hazard: And what about batteries in the basement of occupied homes? Batteries emit small amounts of toxic gas into the home while they are being used and charged. Granted, this is a small amount and hardly noticeable, it still remains that this is toxic waste and can be dangerous.
4. Carbon "Footprint": Battery powered pumps use a far more complex manufacturing process. There are motor windings to make, batteries and chargers to manufacture, wire and cable used, toxic materials wasted, etc. A water powered pump uses a far less complex manufacturing process involving plastics molding which leaves a far smaller "footprint" as a result.
5. Landfill Issues: Each motor and battery from a battery backup pump will eventually need replacing and the used ones go into landfills in most cases. However, a water powered backup sump pump lasts many more years, with little or no maintenance, wastes nothing, emits nothing, and protects basements from water damage that otherwise would cause other types of waste, like ruined furniture, soaked rugs, damaged furnaces, and other appliances. And this doesn't even account for mold and other health hazards. Every household with a battery backup sump pump will replace the battery every 3-5 years and the pump motor every 8-12 years, regardless of usage. So in a 25 year period, each one will have sent 5-8 batteries and 2-3 backup pump systems to a landfill or recycling facility. In the same period of time, most, if not all, water powered pumps will still be in service. Zero waste, zero recycling cost! Lest I be misunderstood, I am aware that there are many cases where a water powered pump cannot be used and the only choice is a battery powered backup pump, but the focus here is on the advantage water powered pumps have over battery powered pumps when it comes to being "green."
"We get calls every week asking about the water usage and cost to operate a water backup pump. People are concerned about this issue and we give them this answer: Yes it does use water, but what is the small cost of a few gallons of water against the many thousands of dollars in lost items in a basement?" says Bill Bonifacio, President of Base Products Corporation. To summarize, I believe it can be shown that a water powered backup sump pump is the "Green Choice" for today over a battery backup sump pump. The minimal cost and usage of water is by far made up for in the prevention of basement flooding and the extensive damage caused whenever that happens. Insurance companies limit their loss right in their policies, but homeowners are stuck with the messy cleanup and enormous loss when a basement floods. We can help prevent these losses with careful planning and the installation of suitable backup sump pump.
Base Products Corporation, located in Buffalo, NY, is a manufacturer of flood prevention products for over 13 years. They specialize in backup sump pumps, both water powered and battery powered, along with water alarms and automatic water shutoff systems that can prevent or reduce damage to your home from leaking pipes and underground infiltration. They have a web site at http://www.basepump.com and can be reached at 800 554 1426.