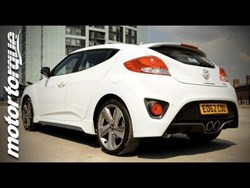 Liverpool (PRWEB UK) 21 August 2013
The Veloster is Hyundai's second attempt at cracking the coupe sector.
Hyundai has really aimed to make the Veloster stand out against the crowd. The model is a bit quirky and different with its three-door design.
An interesting addition to the Hyundai fleet, the Veloster is up against the likes of the Audi TT, VW Scirocco and Peugeot RCZ – but can it keep up with the big boys?
The video features acclaimed road tester and MotorTorque editor Simon McBride, who provides a well-rounded review of the powerhouse coupe. Simon rates numerous features of the coupe, such as its sporty interior and the overall appeal of the car.
Does it have the upper-hand over the likes of the Audi TT and VW Scirocco or does it come up short? Find out in Hyundai Veloster review by visiting the MotorTorque website: http://www.motortorque.com/videos/new-car-reviews/hyundai-veloster-turbo-review-23029.aspx
Contact MotorTorque:
Simon McBride,
Editor
MotorTorque.com
1st Floor Beetham Plaza,
25 The Strand,
Liverpool,
L2 0XJ
Tel: +44 (0)844 445 7862
Email: simon.mcbride(at)motortorque(dot)co.uk