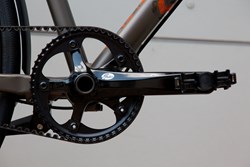 Electric bikes are the future, and we believe Gates Carbon Drive can help drive consumer demand with our clean, strong, and low-maintenance belt drives.
Denver, CO (PRWEB) August 20, 2013
Gates Carbon Drive™, the world's leading seller of belt drives for bicycles and electric bikes, is launching a wide range of new products at Eurobike 2013 targeted at the growing market for eBikes.
Gates has partnered with eBike motor brands including Bosch, SRAM, MPF, BionX, Höganäs, and others to create sprockets that integrate with their motors, providing bike manufacturers with the widest range of belt drive eBike systems ever.
"Electric bikes are the largest growth category for Gates Carbon Drive and we are working diligently to provide eBike manufacturers with belt drive options for all the leading motor systems," says Todd Sellden, global director of Gates Carbon Drive. "Electric bikes are the future, and we believe Gates Carbon Drive can help drive consumer demand with our clean, strong, and low-maintenance belt drives."
Other new products introduced at Eurobike include Gates-branded cranks, Di2 sprockets and Pinion sprockets that integrate with Shimano's popular electronic shifting system, and Pinion's award-winning gearbox technology, as well as more belt lengths to accommodate a larger variety of bicycles and eBikes.
Cranks, Di2, Pinion and eBikes
Available for 2014 models, the new Gates cranks come attached to the front sprocket for easier installation and less sourcing of parts, simplifying assembly and saving valuable production time. The Di2 sprockets and Di2-specific cranksets come assembled for easy mounting to Shimano's electronic shifters. Gates has likewise partnered with Pinion to provide Carbon Drive sprockets that easily mate with Pinion's gearboxes.
Gates is now working with Yamaha, NuVinci, and Panasonic to provide sprockets for their eBike motors. "Gates is committed to partnering with leading component makers to provide belt drive solutions for manufacturers, and give consumers a wider range of pedal and eBike options with our belts," Sellden says.
More Belts, More Sprockets, Demo Day
Gates Carbon Drive, the only belt drive system designed specifically for bicycles, has continually expanded its product line year-after-year and now offers eight belt lengths, up from three in 2008 when first introduced. For 2014, the company is offering two new shorter belts (108-tooth and 111-tooth) to accommodate more eBikes, folding bikes, and bicycles with shorter chain stays.
"Our goal," Sellden says, "is to continue offering more belt lengths and sprocket sizes every year, and to continue integrating with the leading internally geared hub, gearbox, and eBike transmissions so that we have belt drive solutions for every bicycle category--from BMX to eBikes, mountain bikes to city bikes, foldables, tandems, cargo bikes, and even one day, low-cost beach cruisers."
Launched in 2008, Gates Carbon Drive will be featured on more than 220 bike models from more than 90 brands in 2014, including eBikes from Smart, Bergamont, Flitzbike, Electrolyte, Grace, GoBike, OHM, Mi-Tech, MTB Cycletech, Nicolai, Steppenwolf, Zemo, Kettler, M55, Nevi, Pi, and more.
Gates will be showing its new product range at Eurobike 2013 and will also, for the first time, have a booth at Eurobike Demo Day. Dealers and media are invited to visit the Demo Day booth to test new belt drive eBikes from Flitzbike, Electrolyte and OHM, as well as pedal bikes from Nicolai. Indoors at Eurobike, the Gates booth (A2-203) will feature the new GoBike (for city bike share programs), the new Grace Urban MX2 eBike, and new belt drive city bikes including the BMC ac01, the official lifestyle bike of the BMC Racing Team.
About Gates Carbon Drive
Consisting of two lightweight metal sprockets and a high-strength belt embedded with carbon fiber cords, Gates Carbon Drive™ is a low-maintenance, chain-replacing technology from Gates Corp., the global leader in automotive and industrial belts. Clean, quiet, light, and strong, Carbon Drive requires no greasy lube, weighs less than a chain drive, and will not stretch. Due to its low maintenance and ease of use, Carbon Drive is a technology that can get more people on bikes. Visit http://www.gatescarbondrive.com/.