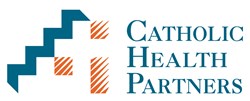 Multi-year agreement enables CHP to leverage the process improvement and best practices of Parallon's revenue cycle shared services model.
Cincinnati, OH (PRWEB) August 21, 2013
Catholic Health Partners (CHP) has selected Parallon, a leading provider of healthcare business process and operational services, to provide key revenue cycle services in a partial outsourcing model for its acute facilities. This organizational decision was made after extensive research and planning and will enable CHP to most effectively support the future needs of the organization, while assuring continued high-quality, cost-effective services. Patient-facing services and other specific revenue cycle activities will continue to be provided by CHP employees at the point of service and high-volume revenue cycle services will transition to Parallon.
The multi-year agreement enables CHP to leverage the process improvement capabilities and best practices of Parallon's revenue cycle shared services model, one of the largest and most advanced models in healthcare. The model allows all of CHP's hospitals to benefit from a proven, scalable, centralized revenue cycle platform that includes services and technology solutions in: financial counseling and Medicaid eligibility, pre-access services, revenue integrity, and business office/patient financial services.
To best support the new model, while maintaining CHP's high standards of excellence, CHP will transition employment of approximately 670 employees who currently support high-volume revenue cycle activities in CHP's seven regional markets to Parallon on October 7. All remaining 1,150 revenue cycle employees in non-affected revenue cycle service areas will maintain their employment with CHP. In April 2014, Parallon will open a new Shared Services Center (SSC) in the greater Cincinnati area to serve the existing and expanding needs of the local CHP facilities. Upon completion, revenue cycle activities outsourced to Parallon and provided in CHP's service areas will be transitioned over the course of approximately 12 months to the SSC or be fulfilled remotely.
"CHP selected Parallon because its values are comparable to CHP's, it follows a 'patients first' philosophy, and it provides outstanding service quality," said Deborah Youngblood, vice president of revenue cycle at Catholic Health Partners. "As CHP evaluated various options to enhance its revenue cycle services and efficiency, partial outsourcing was clearly a preferred option. Moving to this new model was possible only because of our confidence that Parallon will support our commitment to service quality and efficiency, and, for our employees transitioning to Parallon, it is an excellent employer that provides extensive career opportunities, including 'work from home' options."
A driving factor in the decision for CHP to work with Parallon was its flexible solution allowing CHP to leverage best practices developed by a leading services provider. With the opening of the Cincinnati-area service location, it marks the first time Parallon is building a shared services center with a dedicated focus to support new operations. Today, Parallon operates eight full-service revenue cycle shared services centers across the country.
"We know providers are looking for partners who bring demonstrated experience and scale to help increase their ability to provide excellent patient care in a cost-effective way," said Eric Ward, president of Parallon's revenue cycle services business unit. "We are honored to support CHP's mission to improve the health of its communities and are pleased to welcome an outstanding team of knowledgeable employees who will help ensure a seamless transition and CHP's continued success."
About Catholic Health Partners
Catholic Health Partners (CHP) is the largest health system in Ohio and one of the largest health systems in the United States, employing more than 33,000 associates in Ohio and Kentucky. With $5.6 billion in assets, CHP operates more than 250 health facilities, including 24 hospitals, 15 senior living communities, five hospice programs, eight home health agencies, and a health insurance plan. Its hospitals operate as Mercy, Mercy Health, Mercy Health Partners, Humility of Mary Health Partners, Community Mercy Health Partners and St. Rita's Health Partners. In keeping with its mission, CHP provided $385.4 million in community benefit services in 2012. CHP's bonds are rated AA- by Standard & Poor's and Fitch, and A1 by Moody's. In four of the last six years, Truven (formerly Thomson Reuters) rated CHP among the nation's top health systems for clinical quality and efficiency. Learn more at: http://www.health-partners.org
About Parallon
Parallon Business Solutions, LLC is a leading provider of healthcare business and operational services headquartered in Franklin, Tenn. Parallon partners with hospitals, healthcare systems and non-acute care providers to improve their business performance through the company's deep industry knowledge and proven practices in revenue cycle; technology; workforce solutions; consulting; group purchasing and supply chain. Parallon employs more than 22,000 professionals and, together with its Healthtrust Purchasing Group, L.P. affiliate, serves more than 1,400 hospitals and 11,000 non-acute care providers, including ambulatory surgery centers, physician practices and alternate care sites. Visit Parallon's website at
http://www.parallon.com.