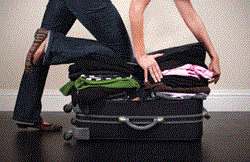 Keeping in contact with family and friends while overseas can be expensive especially on long vacations or study abroad programs.
Washington D.C. (PRWEB) August 21, 2013
Visiting Mexico, whether for vacation or for family, can end up being an expensive endeavor. We all deserve a vacation, but it is also always a good idea to be budget conscious. As thoughts of preparation and those long lines at the airport dance through our heads adding to the already high stress levels at work no one has time to sweat the little stuff. However, the little stuff can add up to hundreds of dollars over the course of the vacation, money that could be better spent on souvenirs or a couple extra frozen drinks at the bar. When traveling to another country there are a number of ways to save money that will make the trip smoother and less expensive.
When traveling to Mexico, it is vital to understand the exchange rate in order to keep you within budget. Calculating exchange rates, understanding whether or not your credit cards or bank will charge international withdrawal fees, and understanding local ATM withdrawal fees will help you eye in true cost. Using the current exchange rate, a $100 USD withdrawal will equal $128 MXN, but if your bank rates will only give you $120MXN, the ATM charges you $8MXN, and your bank charges you $12 MXN for an international withdrawal… we find how quickly you can manage to lose nearly 21% of your money before you can even spent it.
Although Mexican custom dictates that tipping is not necessary, we do encourage treating your hostess and drivers well for good service. If you're really hard up for cash, public transportation is always an option that may lead you to areas of the city you might not have otherwise visited. Some hotels even offer complimentary transportation to and from popular local restaurants so be sure to inquire about your travel options with your concierge before heading out.
Finally, giving your family an affordable way to keep in contact with you during your vacation is important. Keeping in contact with family and friends while overseas can be expensive especially on long vacations or study abroad programs. Companies like (PureMinutes) offers a unique way to save on international long-distance that's as easy as picking up the phone. Using a revolutionary system that allows Pure Minutes to recognize subscribers automatically eliminates the need for complicated PIN numbers typically found on calling cards. This simplified process helps the technologically challenged grandparent or lazy college student make calls easily from their mobile or landline. Best of all there are no obligations or contracts to sign.
To learn more about PURE Minutes and our exclusive system which eliminates the need for complicated PIN numbers visit our website at pureminutes.com and get up to 60 free minutes for first time customers.
The PURE Minutes difference

No Hidden Fees
No Connection Fees
No Maintenance Fees
Real Minute Rounding
No Contract Required
Minutes Never Expire
Low International Rates
Reliable, Clear Quality
For a limited time, text the word PURE to 74121 for a $3 free trial with no obligation from PureMinutes!
Supported Carriers: AT&T, Sprint, Nextel, Boost, Verizon Wireless, U.S. Cellular®, T-Mobile®, MetroPCS, Tracphone, Cricket, Cellular One Dobson, Cincinnati Bell, Alltel, Virgin Mobile USA, Cellular South, Unicel, Viaero Wireless US, Centennial and Ntelos
Message and Data Rates May Apply. For help or information on this program send "HELP" to 74121. To cancel your plan, send "STOP" to 74121 at any time. For additional assistance, contact customer service at 1-866-558-4169
For Full Terms and Conditions visit (cdyne.com) Msg Freq 5 per day.
About PureMinutes
PURE Minutes is a leading provider of prepaid international long-distance calling solutions. We provide an affordable communication solution that offers flexibility, portability and ease-of-use for both landline and mobile users. PURE Minutes offers competitive international calling worldwide with no hidden fees, no maintenance fees, no contract required, and minutes that never expire. PURE Minutes service is sold on the web and through regional and national retailers including MoneyGram, La Nacional and payXchange and is available to customers worldwide in English and in Spanish and accepts payments through all major credit cards and Paypal.
Follow us on Twitter (@PUREMinutes), Facebook (facebook.com/PUREMinutes), and LinkedIn (PUREMinutes, LLC) for up to the minute updates.
###