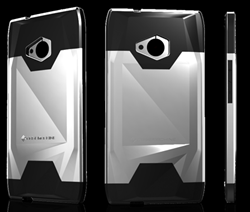 Miami, FL (PRWEB) August 23, 2013
Casemachine's vision is to create exotic, elite and topnotch automotive inspired phone accessories. The company came into existence in 2010 with its headquarters based out of Miami, FL. Casemachine has since then received international recognition for its unique and compelling designs, excellent craftsmanship and unmatched dedication to provide a case-less feel of the phone through its phone cases.
The president of Casemachine, LLC took to the company's official Facebook page earlier in July that the company is now planning to design a new slip-on hybrid case for the HTC One, titled the Casemachine CS1 Evolution case for HTC One. He said "we really wanted to do something for a brand new device, a device for which we did not offer any racecar inspired cases before. HTC One provided us the perfect opportunity to do so. We designed a case that would provide something different and never seen before. That's when we got the chance to bring the concept of an interchangeable snap-on back shell along with a slip-on polymer hybrid. The result: Casemachine CS1 Evolution case for HTC One."
Casemachine has confirmed that the Casemachine CS1 Evolution case for HTC One will be a TPU-Polymer hybrid and will comprise of exotic and upper-echelon polymers to guarantee excellent drop protection. The company also told that the CS1 Evolution case would also provide great customization to the users through its interchangeable back shell which will be available in various different automotive PPG coated shades.
The outer shell will add to the details of the CS1 Evolution case for HTC One. The polycarbonate caters for a robust and stiff feel of the case and provides a premium feel to the touch. Casemachine has used the best thermoplastic polyurethane polymer for the construction of the new Evolution case. The TPU is touch-friendly and does not become a hassle while pulling out of the pocket.
Casemachine's CS1 Evolution case for HTC One marks the first case from the company for an HTC device. The company revealed plans to release more phone cases for the Taiwanese flagship phone maker later this year. The company has already started designing a new slider case for the phone.
Casemachine's products are mere exemplifications of extreme design engineering, outstanding durability and craftsmanship. The company has recently brought forward several phone cases for the Apple iPhone 5 which have received critical acclaim by renowned accessory reviewers. Casemachine also presented its products to the attendants of the international Las Vegas CTIA Show 2013 held earlier this year in May.
For further information on the CS1 Evolution case for HTC One, please contact the Casemachine customer support at 305-818-9933.