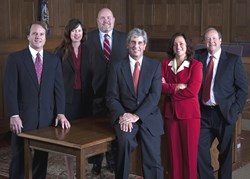 Relentless Devotion. Proven Results.
Richmond, Va (PRWEB) August 21, 2013
The law firm of Cantor, Stoneburner, Ford, Grana & Buckner, P.C. is proud to announce that all of its partners, Irvin V. Cantor, Lewis T. Stoneburner, H. Aubrey Ford, Stephanie E. Grana, and Elliott M. Buckner, have again been selected for inclusion in the 2014 edition of Best Lawyers in America. Additionally, two of the law firm's partners, have been awarded "The Lawyer of the Year Award" in separate categories: Irvin V. Cantor – 2014 Richmond Personal Injury Litigation – Plaintiffs and H. Aubrey Ford – 2014 Richmond Employment Law – Individuals.
Inclusion in Best Lawyers in America is considered an honor because of the rigorous and transparent selection process based upon a peer review survey.
About The Law Firm: Cantor, Stoneburner, Ford, Grana & Buckner is devoted exclusively to individuals and families devastated by personal injury, wrongful death, medical malpractice, traumatic brain injury, and other cases of serious personal, commercial and economic loss. The firm's trial lawyers handle only the most serious plaintiff cases and have achieved over 65 verdicts and settlements in excess of $1,000,000. The vast majority of the firm's clients are referrals from other trial lawyers. To learn more about the law firm, go to: http://www.virginiatrialfirm.com