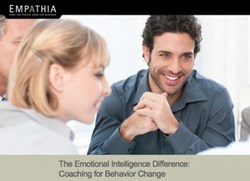 MILWAUKEE, WI (PRWEB) August 21, 2013
Business leaders everywhere should be coached in the science and practice of emotional intelligence, according to a new article from Empathia. The reason? This coaching not only makes them more effective leaders but it also boosts the performance of their organizations.
As the article points out, emotional intelligence enhances foundational leadership skills and helps individuals correct personal behaviors that reduce their effectiveness as leaders. Equally important, organizations that are led by individuals with high emotional intelligence are more likely to have higher profitability, above-average productivity and customer loyalty, and reduced employee turnover.
The article offers:

Personal insights from business leaders who have undergone emotional intelligence coaching.
Specific, measured impacts of emotional intelligence coaching on one of Empathia's Fortune 500 clients.
A variety of observations from emotional intelligence experts, including Daniel Goleman and Marshall Goldsmith.
An examination of the three critical elements that impact the emotional intelligence of an organization's leaders: self-awareness, feedback and workplace culture.
Interested in learning more about how emotional intelligence can impact your organization? Download your complimentary copy of the article, "The Emotional Intelligence Difference: Coaching for Behavior Change," at http://www.empathia.com/new_whitepapers/20130821.php.
About Empathia
Empathia provides behavioral health solutions that improve the well-being, safety and productivity of organizations and individuals. The company collaborates with private and public sector entities from expansive Fortune 500 corporations to small businesses in addressing a diverse range of needs: employee assistance, disaster response and planning, work-life balance, employee relations, leadership development, training and benefits support. Founded in 1982 under the name NEAS, Empathia has distinguished itself as a quality leader dedicated to creating a superior customer experience for both client organizations and employees. For more information, visit http://www.empathia.com.