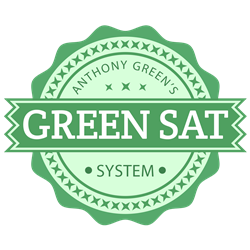 Parents want one thing: results. This program works, and that's all I care about.
New York, New York (PRWEB) August 21, 2013
When it comes to SAT prep, parents are faced with a nearly limitless array of options. One recent player in the field, an online self-study course designed by SAT guru Anthony-James Green, has been making waves in the industry due to its brute effectiveness. Only 6 months after its release, Green's system has achieved an average student score improvement higher than any other classroom course or system available - more than 380 points per user, and often much higher. However, rather than rest on his laurels, Green has taken his program's success and re-released it as a new platform with more functionality, a better interface, and a lower price tag.
"I have a bit of an obsession with results," says Green of his new program. "There's only one thing parents and students care about: higher scores. They want an SAT program that'll raise their scores consistently, quickly, and effectively. The old program got results - but I knew it could be improved. The new version of the program has been tweaked and improved to further amplify student results, and now that I have so many students to test the program on, the data I need to make improvements is coming in faster and faster."
Parents and students who want to learn more about Green's new SAT system can see his new program via the following URL:
http://www.GreenSATsystem.com .
Green's new SAT system is an online, self-study program which takes students through a rigorous set of assignments designed to improve their scores in the shortest period of time possible. When users purchase the program, which now costs less than $300 (down from $400 for the original version), they have access to Green's 30-day and 60-day programs - the former for students undergoing last-minute prep, and the latter for students with more time to prepare.
Each day, students log into the online program and complete a set of daily assignments, combined with strategy and tactics lessons, to continually hone their skills. They're also walked through the process of taking multiple timed, graded, analyzed diagnostic tests using real SAT exams. Thus far, the results of the program have spoken for themselves.
Currently, the average student using the program is improving by over 380 points - but that only tells half the story. Many students are coming in with scores in the ~2100 range - therefore, they only have 300 points of potential improvement. Many students are improving by 600, 700, or even 800 points using the program in an extremely limited period of time. This is the best SAT prep result posted anywhere in the industry.
"The program works so well because it's adaptable, and it holds students accountable for their own learning," says Green. "Students aren't told to complete random assignments based on some one-size-fits-all criteria. Instead, they identify what they don't know, isolate their own weaknesses, learn the proper strategies for defeating them, and then ruthlessly study them into oblivion. This program isn't some sort of "magic bullet" - it's for students care enough about college to do what actually matters and really learn. I don't promise a walk in the park - I just promise results."
Green's program also comes with a full guarantee - students have 21 days to try the program, and if they're not satisfied for any reason, they can request a no-questions-asked refund simply by sending in an email. The program is hosted entirely online, and can be used anywhere, by any student of any skill level, at any time of day.
Parents interested in learning more about Green can view his personal tutoring website at the following URL:
http://www.NewYorksBestSATtutor.com .
Green has tutored over 340 students one-on-one, and has achieved a reputation as one of the most effective SAT tutor s in the world. He has spent over 10,000 hours tutoring the SAT and training other tutors to perfect his method. He currently lives between New York and Los Angeles, where he tutors full time when not working on improving his SAT system.
###