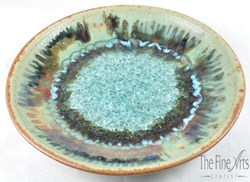 This is perfect example of functional art that needs to be seen.
Hagerstown, MD (PRWEB) August 21, 2013
If you're a fan of color and texture, then Dock 6 Pottery is just what you've been looking for. With vibrant colors, textures and unexpected inclusions, each piece of American handmade pottery is an aesthetic delight which will add a welcome splash of color to any room. The Fine Arts Company is pleased to announce the addition of Dock 6 Pottery and potter Kerry Brooks to the family of fine artists and designers they represent.
"This is perfect example of functional art that needs to be seen," said David Nathans of The Fine Arts company during a recent video art blog post. The post centers around Dock 6 and shows several amazing pieces of the Dock 6 collection.
Kerry Brooks has been a potter since 1988, making it a full time career in 1997. Located in the Longfellow neighborhood of Minneapolis, Dock 6 Pottery serves as a studio and gallery of Ms. Brooks' work. Beautiful and functional, all of her pottery is fired to 2400 degrees so that non-fused glass pieces are not just food safe, but oven, microwave and dishwasher safe as well! Pieces with fused glass can be used to serve dry foods and make a beautiful addition to any home's décor.
The hallmark of Dock 6 Pottery is simple form with vibrant color. Fused glass designs include brilliant crackle glass worked right into the piece – used on coasters, bowls and even soap dishes, these exceptional additions are rightfully an attention grabber. Ms. Brooks' designs are at once classic and thoroughly modern, unique and yet right at home alongside other tableware or décor.
To learn more about Dock 6 Pottery and see the pieces currently available, visit http://www.thefineartscompany.com today. Each piece is one of a kind, so don't wait to find your favorite. Visit The Fine Arts Company often, as stock is changing and there are always new and interesting pieces of made in America art available. Sign up for the mailing list and be the first to know about exceptional new items and other news from The Fine Arts Company.
About The Fine Arts Company
The Fine Arts Company offers a variety of top-quality original handmade items from American artists and designers. The offerings include a creative range of items including jewelry, fine art, glassware and pottery. The Fine Arts Company offers consumers the chance to own and treasure unique one-of-a-kind pieces of modern American culture. Visit http://www.thefineartscompany.com or follow on Facebook to learn about upcoming events and developments, and see the newest and best in handmade American arts.