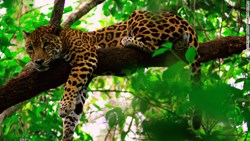 That's what real ecotourism is all about - showing people how beautiful and precious Belize's natural environment is, and at the same time educating them about what can be done, and is being done, to protect it.
San Ignacio, Belize (PRWEB) August 22, 2013
The Belize's jaguar sanctuary's recent attention in international media is an important reminder to Belizeans and nature lovers everywhere of the need for international cooperation in protecting the world's shrinking population of big cats, according to naturalist guides at Chaa Creek's Belize Natural History Centre.
Brion Young, whose work keeps him near Belize's jaguars' natural habitats, said he was heartened to see a feature on Belize's jaguar protection initiatives in an August 19 2013 article in the online edition of Global Post titled, "Cockscomb Basin: Where the big cats are."
"The title immediate caught my eye because the Cockscomb Basin Wildlife Sanctuary is very special to those of us connected with the Belize Natural History Centre, not only as another adventure option we offer to Chaa Creek's guests, but because it's an integral part of a biological corridor that's becoming essential to the survival of these beautiful animals, and we're proud that Belize plays such a major role in it," Mr Young said.
The Global Post feature, with the tagline, "Jaguars roam Belize's tropical Cockscomb forest, the heart of a pioneering plan to carve a green corridor linking the big cat species across the region" describes an ambitious project to create a biological corridor across several nations, from Mexico down to Argentina, to protect the jaguars' natural range.
Spearheaded by the US organisation Panthera, the project is aimed at preventing the big cats' natural corridor from being further disrupted by roads, towns, farms and other human infrastructure. Limiting the jaguar's natural range impacts on their breeding diversity and has dire consequences to health and their long term chances of survival.
The Global Post article describes how Belize's 128,000 acre Cockscomb Basin is an important link in that corridor and protects the solitary cats' natural environment of virgin jungle and rivers as well as a the animals essential to a healthy big cat diet; such as peccary, gibnut, armadillos ,and other animals otherwise threatened by human intrusion.
Mr Young said that Belizeans are proud that their country still retains 60 per cent of its original jungle cover, and that many individual, agencies and private entities cooperate to maintain it. "Chaa Creek, for instance, maintains its own 365 acre private rainforest nature reserve, and we're just one eco resort. When you add up all the protected land in Belize, private and public, it represents a sort of Noah's Ark for many species."
"That's a heritage handed down from our Maya ancestors that we're taught from a very early age to respect. Tourism only really took off in Belize about 30 years ago, but it's always been along the lines of eco-tourism, and that's a pretty unique situation," he said.
According to the Global Post article, which interviewed Bart Harmsen, a Dutch expert who previously lived inside Cockscomb for five years and now teaches jaguar ecology at the University of Belize, the Cockscomb Sanctuary is home to some 80 breeding age adult jaguars, but due to the elusive nature of the big cats and their excellent natural camouflage, exact numbers are impossible to determine.
But there is no doubt that the efforts of Belizean environmentalists and international groups like Panthera are making a difference. In June of this year, according to Global Post, Panama signed on as the fifth Latin American nation on the biological corridor, making the corridor a model of international environmental protection efforts.
"We see a large number of overseas guests at the Natural History Centre each year, and it gives you a good perspective on what a global concern environmental issues are. And now, to show people how countries in our region work together to ensure the health of not only jaguars but many other species provides a real-life model of how it can work."
"That's what real eco-tourism is all about," Mr Young said, "showing people how beautiful and precious Belize's natural environment is, and at the same time educating them about what can be done, and is being done, to protect it. We try to promote caution as well as hope."
ENDS