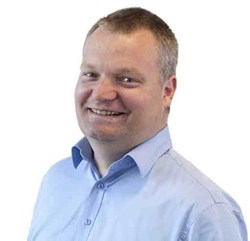 Cut once, cut hard if necessary, and explain to the survivors that there is no intention to do it again
Manchester (PRWEB UK) 21 August 2013
Managers should set an example when making cuts, and act early enough to avoid the situation worsening, John Thompson has said in a new Find the Edge article.
He uses the post to provide four tips designed to help managers restructure without irreparably harming their company.
Thompson said: "Despite the innocent euphemisms we use to describe such 'right-sizings', they are usually an unpleasant experience for all involved.
"Make sure you won't need to go back and cut more, as this is devastating to morale and will make your talent run for the hills.
"Cut once, cut hard if necessary, and explain to the survivors that there is no intention to do it again. But do be careful not to make promises you can't keep."
He goes on to explain how everyone involved in the cost cutting process has an opportunity to make positive change, and why a restructuring can be the perfect opportunity to streamline a business, and ensure it runs more efficiently in the future.
Thompson also highlights the need for the manager to visibly shoulder some of the burden.
He said: "Don't treat yourself any differently to anyone else. If you are proposing pay cuts, make sure you set an example.
"I have always been amazed at how people will make sacrifices when their leaders genuinely share the pain. Without the moral authority of a personal sacrifice, you can't expect your team to forgo any of their entitlements.
"I voluntarily 'restructured' myself out of an organisation once, when running a major cost reduction programme. Such a gesture smoothed the process significantly, and did my career no harm whatsoever."
The article can be read in full here: http://www.findtheedge.com/leadership/strategy/cutting-costs-tips-for-maximum-gain-with-minimum-pain.
John Thompson has been CEO of User Replay since January this year, and has been involved in a variety of other businesses throughout his career. More information about him can be found here: http://www.findtheedge.com/expert-panelist/john-thompson .
Kenny Goodman, founder of Find the Edge, said: "Cutting costs is never going to be a pleasant experience, but John provides some fantastic advice for any manager who's facing the inevitable.
"His tips will help to ensure the minimum damage is caused when cutting and that the efforts have a positive outcome in the long term."
Find the Edge is a global business website, which aims to give business leaders the knowledge and insight they need to succeed.