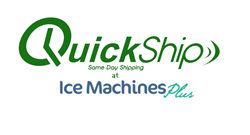 Most in the foodservice industry realize an influx in business during the fall and winter months and losing your ice machine during this time can be a disastrous event. Now, we can ensure that no establishment is without ice for a prolonged period of time
Hartford, CT (PRWEB) August 26, 2013
With the introduction of the new Quick Ship Program, Ice Machines Plus is now offering an option that allows select ice machines to be delivered in 48 hours or less. Certain ice machines from Manitowoc and Ice-O-Matic can be shipped the day they are ordered, and are guaranteed to be delivered in 48 hours or less. Now, when a new ice machine is ordered, it is shipped and delivered more quickly than ever.
With Manitowoc, the Quick Ship option is available on select ice machines at no additional charge. Currently, Manitowoc offers five ice machines and four ice storage bins that qualify for the Quick Ship option. Quick Ship ice machines and storage bins can be purchased in conjunction with each other, and all will be shipped to the purchaser within 48 hours. Bundled units, which include an ice machine and ice storage bin, also qualify for the Quick Ship option as long as each item is individually included in the program.
Ice-O-Matic offers ten ice machines that qualify for Quick Shipment, along with two ice storage bins. Ice-O-Matic is charging a $50.00 fee for the Quick Ship service. The fee charged by Ice-O-Matic is incurred per order, not per item, so if an order is placed for two ice machines and two ice storage bins, the total cost remains $50.00, not $200.00. Customers that order more than one ice machine or storage bin are not required to pay the Quick Ship fee on each individual unit. If for some unforeseen reason Ice-O-Matic does not deliver the ice machine in 48 hours or less, the purchaser's Quick Ship fee will be refunded completely.
Ice-O-Matic has been making ice machines for over 60 years. They are known for their durable evaporator plates and industry leading warranty. Ice-O-Matic ice machines frequently outperform their competitors in terms of ice production as well, as they are built with Ice-O-Matic's mantra, "More Ice for the Price" in mind. They are assembled in Denver, Colorado, but Ice-O-Matic has distribution points all across the United States, so ice machines can ship quickly to the buyer.
Manitowoc has been lauded for the development of their Indigo ice machines. These ice machines have been noted as the most technologically advanced to date. With an on-board computer to monitor every cube made, Manitowoc ice machines excel in many facets of ice making. The newly released NEO is quickly becoming one of the most sought after undercounter ice machines, boasting features that were once only known to exist on Manitowoc's Indigo ice machines. The NEO recently turned heads at the 2013 NAFEM show when its full capabilities were put on display for the first time.
Michael Sullo, sales manager at Ice Machines Plus, knows the importance of a timely delivery. "Most in the foodservice industry realize an influx in business during the fall and winter months", Sullo said, "and losing your ice machine during this time can be a disastrous event. Now, we can ensure that no establishment is without ice for a prolonged period of time."
The Quick Ship option is being offered on select products from Ice-O-Matic and Manitowoc, wihle Ice Machines Plus aims to offer this option on a greater amount of appliances in the future. Quick Ship ice machines and ice storage bins are conveniently labeled and are easily located at IceMachinesPlus.com.