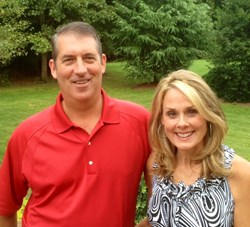 Greensboro, NC (PRWEB) August 26, 2013
After 25 years of working in the printing trade coupled with industry experience as a painter, Mike Fogleman certainly knows the fine points of the painting business. As owner of the newly opened Fresh Coat Painters of Greensboro franchise, Fogleman can put this expertise to good use. "I actually ran a painting crew in college, so I understand the fundamentals of the painting industry," he noted.
Earlier this year, with the printing industry in decline, Fogleman, along with his wife, Martha, began researching various franchises before deciding on Fresh Coat because of its low startup costs, short training time, and "tried and proven" business structure. "We wanted something that could get off the ground quickly, as opposed to starting from scratch," he noted. "Fresh Coat has been around for a long time and perfected its business model. It's a good fit, and something that we can grow."
With Fresh Coat, owners have a range of corporate offerings that support their clients and make the process smoother, including a 24/7 call center, proprietary EPIC estimating system, Paint Now-Pay Later same-as-cash financing, Automatic Touch-Up for businesses, and fund-raising opportunities for charities.
Parents to two children, a 17- and 20-year-old, Fogleman and Martha divide the demands of running the business. Martha puts her accounting background to use, running the office. Fogleman meets with clients to provide quotes and manages the painters.
Fogleman takes pride in educating his clients on how he can help them achieve their goal, be it painting a house inside and out to help sell it, or simply changing the color of a room.
"I definitely have no interest in a hard sell," he said. "For me, it's all about problem solving and building that relationship."
To learn more about Fresh Coat Painters of Greensboro or to schedule an on-site quote for residential or commercial projects in Greensboro, Summerfield, Oak Ridge, Stokesdale, Jamestown or their surrounding North Carolina communities, call 336-441-1555 or visit http://www.freshcoatgreensboro.com/.
About Fresh Coat
Founded in 2004 in Cincinnati, Ohio, Fresh Coat Painters provides services for residential, commercial and governmental customers in more than 100 major cities across the United States and Canada. Fresh Coat is part of the International Franchise Association, the Small Business Association's Franchise Registry, VetFran and Minority Fran. For more information, call 866-708-9355 or visit http://www.freshcoatpaintersfranchise.com.