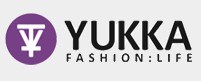 Now that we've opened the doors to our first High Street store, we will undoubtedly carry on giving streetwear fans a lot to talk about.
(PRWEB UK) 22 August 2013
To mark their 10th Anniversary this year, respected online streetwear retailer Yukka has raised the bar by opening up a much-anticipated High Street store in the City of Bradford, West Yorkshire.
In addition to establishing themselves as one of the leading online retailers of top notch urban clothing from stellar brands in the UK, Europe and US, Yukka's new boutique flagship store boasts a stylish interior showcasing a wide range of must-have merchandise at great prices.
Established in 2003, Yukka was one of the first UK streetwear specialists to offer the latest in hip hop and urban fashion from titans such as G-Unit, RocaWear, Ecko, Akademiks and Sean John, plus a host of fresh brands that grew to become the legends they are today.
Currently, the Yukka website offers an almost inexhaustible range of cutting-edge brands, and now shoppers can visit their store to touch and try on the best that streetwear fashion has to offer. Top trend-setting brands that Yukka stock include 10 Deep, Crooks & Castles, LRG Clothing, The Hundreds and many more, not to mention timeless classics like Adidas, Nike, Reebok and Tommy Hilfiger.
Yukka is also highly sought after by urban fashion connoisseurs because they frequently offer unmissable deals on clothing and accessories – their website even has a dedicated Half Price Sale section, while their new store will continue to exceed expectations with excellent bargains regularly up for grabs.
Never failing to get their customers excited with fresh stock from around the globe, Yukka will also be giving lucky shoppers a chance to get their hands on some fantastic in-store exclusives at the Bradford outlet, meaning urban clothing hunters will want to pop in as often as possible.
What's more, customers can expect the streetwear specialist to be sending them savvy email discount promotions, which they can use both online and in-store.
Founder of urban clothing specialist Yukka, Robby Sur, commented on the opening of their flagship store: "When Dre, Eminem and 50 Cent were causing waves in the early 2000's, hip hop and urban fashion became a lifestyle so there was massive demand, but at the time there were no retailers around to provide for this underground genre.
"Yukka was born to fill the gap, and while a number of retailers later jumped on the bandwagon, we have continued to keep our online customers excited by offering a comprehensive range of hot stock and discount offerings. Now that we've opened the doors to our first High Street store, we will undoubtedly carry on giving streetwear fans a lot to talk about."