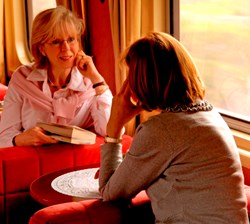 Pleasant company, fine dining, interesting visits, great views plus private suite with bathroom - luxury train travel for single people is hard to beat.
Chippenham, UK (PRWEB) August 23, 2013
The Luxury Train Club is focussing on the growing interest from solo travellers who are looking for sociable, secure and sumptuous single accommodation on luxury and tourist rail holidays.
Spain's railways have a lot to offer the solo passenger, with fully-escorted holidays on 4 special trains, three luxury rail vacations and one tourist or first class train cruise. Three trains are in the north in España Verde / Green Spain. The fourth, a luxury train with a number of original Wagon-Lits carriages called Al Andalus, runs mostly in Andalucia but during July and August, operates between Madrid and Zaragoza. All four trains offer early bird booking discounts.
In Africa, the Luxury Train Club offers three different train companies, Shongololo Express, Rovos Rail and the Blue Train. Each railway has its own special character and benefits, and it is possible to arrange trips that involve at least two journeys on different trains. All three trains have well-planned security in place for passengers' peace of mind.
The Shongololo Express's 2014 journeys are currently attracting early bird bonuses, for bookings made by 30 September 2013.
The vastness of Russia is available to the single traveller, with the Golden Eagle, a British-owned train, and the Imperial Russia. These two luxury trains offer all-inclusive rail holidays that span almost immeasurable distances, linking Moscow and St Petersburg with far-off Vladivostok or Beijing.
London is the starting point for a typically English luxury train. The British Pullman offers Orient Express service on out-and-back day trips to some of England's iconic cities and destinations. These shorter journeys provide an ideal way to sample luxury train travel for a single individual who may be considering a multi-day holiday.
Fay Lejeune, Editor of The Luxury Train Club says, "Pleasant company, fine dining, interesting visits, great views plus private suite with bathroom - luxury train travel for single people is hard to beat."
About The Luxury Train Club:
Contact: Simon Pielow, http://www.luxurytrainclub.com, infoATluxurytrainclub.com, +44 (0)1249 890 205
The Club website has details of offers from trains around the world, including Early Bird Booking Offers, some specifically for Members.
MEMBER BENEFITS
Discounts:

2.5% discount off the price of any journey on the Club website
Additional 2.5% for more than one booking, valid for new reservations made between 20 June – 30 September 2013;
Discounts are per suite and may be applied on final or full payment.
Club discounts are in addition to offers from the train companies.
Thank You Gift – the Club values every booking made by a member, sending a thank-you gift, which varies from time to time, to the leading passenger for every reservation. Current gifts include one of the following:

Gift from Osprey London, something from their range of small leather goods;
Gift from Noble Isles, a travel item from their range of bath and body products;
The Calendar of Luxury Train Journeys is a useful resource, unique on the web. It is linked from every train information page.