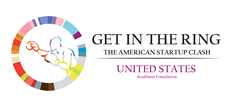 Kansas City, MO (PRWEB) August 21, 2013
A knock-out panel of veteran entrepreneurs and business leaders is taking shape to judge the final match of "Get in the Ring: The American Startup Clash" on Nov. 18. The Ewing Marion Kauffman Foundation announced earlier this month that it would host the first-ever U.S. entry into the international startup pitch competition. Get in the Ring is a showcase event of Global Entrepreneurship Week.
The three high-profile leaders who have been confirmed as judges so far are:

Marc Ecko. An American serial entrepreneur, Ecko is the founder and chief creative officer of Marc Ecko Enterprises, a full-scale global fashion and lifestyle company with multiple high-profile brands and clothing lines. Ecko also is the founder of Artists & Instigators, a venture innovation company, and is a partner at SeventySix Capital, a top-performing early stage venture capital fund.
Matthew Rubel. A turnaround CEO and leader who currently is a private investor and senior adviser to TPG Capital, the world's largest private equity firm, Rubel has built multiple retail and trend-related consumer brands throughout his career. Among the most notable are Payless Shoe Source, which he reinvigorated and built into Collective Brands with 5,000 stores in 92 countries, as well as executive roles with Cole Haan, Revlon, JCrew, and Tommy Hilfiger.
Denmark West. A former broadcast media executive and current operations specialist at K1 Investment Management, which invests in high-growth private companies across North America. West is an adviser to multiple startups and a frequent speaker on digital media. He previously was an executive at Viacom Media Networks, most recently as president of digital media at BET Networks.
Expanded bios for each judge are available at http://www.kauffman.org/GITR .
The judges will oversee an action-packed series of one-on-one live "clashes" among the eight U.S. startups that make it to the final round of competition in Kansas City. The entrepreneur they deem the top finisher will immediately travel all-expense-paid to the Nov. 22 Get in the Ring global finals in Rotterdam, the Netherlands. There, he or she will go head to head with seven other international finalists for a chance to secure angel investment of more than $1 million.
Online applications for Get in the Ring: The American Startup Clash are being accepted through Sept. 3 at http://www.GetInTheRing2013.istart.org . Any U.S. entrepreneur meeting the following criteria is eligible to apply:

the startup is less than 5 years old;
the founder is an American citizen and proficient in the English language;
the startup is a scalable and innovative business idea or model;
the entrepreneur has a valid passport and is able and willing to travel to Rotterdam, the Netherlands, for the international finals being held Nov. 22; and
the entrepreneur is seeking funding of up to $1 million that is available if he or she wins the U.S. competition and his/her startup is determined to be worthy of funding by the investor judges at the finals in Rotterdam.
Get in the Ring was founded in 2009 by the Erasmus Centre for Entrepreneurship in the Netherlands to bring the world's most promising entrepreneurs together with those who can help them succeed and to inspire others to start their entrepreneurial journeys. In just five years, the competition has grown to include 30 nations. The international finals are held each November during Global Entrepreneurship Week (GEW).
The U.S. competition is made possible with generous support from U.S. national sponsor Sprint.
For more information about Get in the Ring: The American Startup Clash, including competition schedule and an updated list of partner organizations, visit http://www.kauffman.org/GITR .
To submit an application to compete, visit http://www.GetInTheRing2013.istart.org.
About the Kauffman Foundation
The Ewing Marion Kauffman Foundation is a private, nonpartisan foundation that works with partners to advance entrepreneurship in America and improve the education of children and youth. Founded by late entrepreneur and philanthropist Ewing Marion Kauffman, the Foundation is based in Kansas City, Mo. For more information, visit http://www.kauffman.org, and follow the Foundation on http://www.twitter.com/kauffmanfdn and http://www.facebook.com/kauffmanfdn.
About Get in the Ring
For more information about the international competition of Get in the Ring, visit http://www.gitr.nl. Also follow Get in the Ring on Twitter @gitr_gew and Facebook/getinthering.gew.