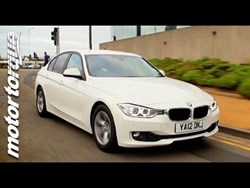 Liverpool, UK (PRWEB UK) 23 August 2013
MotorTorque takes a look at the cars of choice for business drivers in the executive saloon guide.
Through the YouTube video guide, MotorTorque decided upon their favourite out of the sector but still informed viewers of the perks of each vehicle.
Some of the cars included in the guide are BMW's 3Series, the Mercedes C-Class and the Audi A4. MotorTorque picked a range of manufacturers to give an unbiased, varied review, which would appeal to business drivers of all types.
Smart, stylish and comfortable, saloons have been the car of choice for business drivers for many years as they help to make a great first impression. However, MotorTorque recognised that they are no longer reserved solely for business use.
Many saloon drivers use their vehicle for everyday use, as well as for family life and thus, manufacturers have ensured that their cars are more practical and fun to drive.
Why not decide upon your favourite after watching the MotorTorque video on the MotorTorque.com?
http://www.motortorque.com/videos/guides-and-advice/executive-saloon-buyers-guide-video-22688.aspx
Contact MotorTorque:
Simon McBride,
Editor
MotorTorque.com
1st Floor Beetham Plaza,
25 The Strand,
Liverpool,
L2 0XJ
Tel: +44 (0)844 445 7862
Email: simon(dot)mcbride(at)motortorque(dot)co(dot)uk